patna,(bihartimes): sounds somewhat ironic. bihar, the poorest state in the country, had the highest inflation rate, especially in the rural areas, in the period between 2008 and 2011.
while a rural bihari spends just rs 26 a day, which is lowest in india, the state had witnessed an annual inflation of 14.8 per cent leaving the other states far behind. much developed karnataka and haryana had registered the inflation of 13.2 per cent during this period.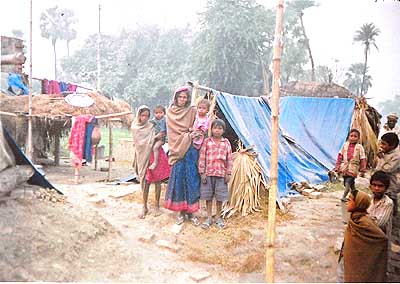 while the rise in inflation all over the country is hitting headlines, in bihar, where it is pinching the people most, the price rise seems to be no news for the media.
the electricity tariff has almost doubled in less than a year, the milk price increased by two-fold since 2006 and prices of vegetables, fruits etc have shot up astronomically in the last few years.
the consumer price index for agricultural labourers (cpi-al) data provide monthly inflation for 20 states using the consumption basket of agricultural labourers with the base year of 1986-87.
according to the state-wise comparison over the period 2005-08 cpi-al inflation averaged 6.4 per cent. rajasthan, uttar pradesh and punjab registered inflation of more than 7.5 per cent, while tamil nadu and kerala had less than five per cent inflation on an average per year.
in the past three years (2008-11) just four of the 20 states had average annual inflation of less than 10 per cent. they are uttar pradesh, meghalaya, himachal pradesh and tripura.
as mentioned bihar with 14.8 per cent topped the list. the highest increase in inflation between these two periods was also recorded in bihar, with karnataka, kerala and tamil nadu behind it. with hardly any savings the high inflation is hitting average households very hard.
in the last 25 years the period between 1991 and 1996 stands out with the highest annual average inflation for cpi-al at 11.57 per cent, followed by the recent period 2006-2011 at 9.9 per cent.
the ten-year period 1996-2006 saw the lowest levels of inflation in the last quarter century. the rise in the past three years (2008-11) has been led by inflation in food and fuel groups at 12.1 per cent and 12.8 per cent respectively, up from the 6.9 per cent and 6.2 per cent recorded in the previous three years.


when almost all the newspapers don't carry these type of stories- which tell about the harsh reality of rural bihar (or may be of whole of the state) - then the reactions of some readers are understandable. but, most of the readers of bihar times, will agree that the atmosphere here at bihar times is not vitiated.

the real state of the state is not taken to the fore by the media both at the state and at national level. and if, anybody says anything against the present regime, then some people label him/her as a lalu loyalist.

i have some examples about the culture media has adopted:

1. all the leading hindi newspapers either did not carry on the front page, or carried as a brief news, about the incinent of police firing in forbesgunj. some newspapers entirely did not carry the incident, for first few days.

2. no national newspaper like toi, et etc., carried the story about the biada kickbacks- it was entirely absent. the hindu carried some big news about biada- but it did not have much circulation in north india.

3. national toi did not carry the news about barhmeshwar mukhiya- the ranbir sena chief's release.

did any journolist question about the further action of the state government? are they going to appeal against the lower court's judgement? i am sure nobody would have.

mr. bachhan was in bihar solely to promote his forthcoming film not for any welfare work. this story was given widest possible coverage. whole media celebrated with him.

and mr. bachhan said that patna was superior to the metros of india. did anyone question on this cruel joke on patnaites in particular and biharis in general? did the write anthing in the editorial?

there are many things reported, which far from real. media in bihar, it seems, have taken lesson from mahabharata incident when yudhishthir gives news about ashwathhama getting killed, to guru drona. they are, in the same way, preaching half truths.
amazon fake review checker
delhi
---------------------------------
people are now very conditioned to listen to only bihar shinning stories. they can not accept the fact that bihar shinning is only limited to patna.
please be realistic and do not brush off these stories as rjd stories. we are being fooled by few showing scary mascot of rjd all the time.
rjd is history now, we have to live in present. lets talk about current development.
------------------------
the bihar times newswebsite is just working like eye-opener for the people of bihar in this so called best governed state under the chief ministership of nitish kumar. thanks bt for your advisory note also for those who have negative approach over news and views on prevailing situation in bihar! i do not know this anand kishore, who feels pinched himself most of the time with correct stories on bihar and subsequent comments and write ups in the bihar times news website! kishore saheb , deviating from actual comments on the stories, has unique trades of abusing the writers, commentotors etc, who give correct position over such development in bihar. kishore must come with convincing comments on the subjects. if kishore wishes honest discussion, at least i am prepared-he should call me whereever he wants , i will oblige him with fruitful discussion-he should give his exact address and call me on his appointed time and place etc despite so many uncharitable remarks against me on my comments on bihar times stories and my write-ups in bt! my identity is not secret-i have my blog, facebook, e-mail etc but then i am ready to give kishore my exact address but he should have gut feeling to give his exact address first because he has launched tirade against correct news and views on bihar!
anyway, i do not want to deviate from my comments on highest inflation rate in bihar in comparision to other states.now it is proving points of people that what exactly nitish govt is doing on rising price front-the centre and state , both are responsibile for price rise and inflation! it is shame for bihar that rural peole are living on rs 20 each per day in rural bihar. because of many faulty systems including faulty and weak public distribution system in bihar, people of bihar particularly rural people are sufferring and have gone in neck-deep poverty in the state. prices of almost all commodities and electric city tarrif have gone up six to 20percentage points high in the last six years during nda govt led by nitish kumar. all these figures of highest inflation rate viz14.08 percent in bihar has not been surveyed by any invdividual but by cpi-al, a bureau of union labour ministry, surveyed throughout the country. apart from highest instances of price rise, particularly in rural bihar, have many reasons. one of the main reasons is indifferences of the state govt towards its inaction against hoarders and blackmarketters in connivance with officials, particularly of district level to block level. in view of such serious situation nitish govt has failed in the last six years, no orgainsed raids on hoarders and blackmarketeers have been initiated. not only that grains for bpl and other beneficiaries like old-age people benefit and women provision in getting ration on subsidised rates as per schemes floated and funded by union govt go to black market and beneficiaries are deprived such benefuts in rural areas. school children go without mid-day meals in majority of schools in rural areas because their food items are sold inconnivance with officials , aganwadi sevikasand scholl teachers.i have seen with my own eyes such rampant practices throughout bihar in course of my profession al tour to various parts of the state in the last three years. bihar govt is yet to determine list of poor in the state. hollow promises of distribution of ration cards for the last three years are yet to take any shape-people are without ration cards, specially poor. for getting age-old pension, poor have to spend a lot but they do not get what to talk of subsidised ration and kirosene. kirosene is openly available at the rate of rs 45 to rs 60 in town and rural areas. kerosene oil sold in black market openly in town and specially rural areas. these are the exact pictures, emanating from almost all parts of the state including town and rural areas. price will be controlled in next 48 hours if the state govt have honest intention!
amazon fake review checker, senior journalist, my blog www.kksingh1.blogspot.com
-------------------------------------------------------
any critical or eye opener story doesn't mean that we are aligned to any political party. bt is at the same time not the public relation deptt. of the govt.
for your kind information find sources:
1. state-wise cpi-al (consumer price index-(agriculture labour)) average inflation rate (labour bureau, govt. of india)
2: 66th round of the household consumption expenditure survey released by the national sample survey office (nsso)
this is team research by bt desk.
even during recent discussion on price rise in parliament, none of our mps raised this issue. price rise hurts more to the people living in rural areas of bihar.
editor
-------------------------------
5 star reviews amazon
ai bot related
amarendra kishore