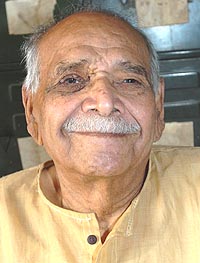 patna,(bihartimes): as prof ram sharan sharma was a national asset with roots in bihar, various newspapers and journals as well as individual scholars wrote about him paying floral tributes to him and highlighting his contributions in the field of history. as he was undisputedly tallest among historians of the country of his time the bihartimes too pays rich tributes to him.
as writing one or two articles on him would be too small a praise for him we in bihartimes decided to provide links to almost all the pieces written in different dailies and magazines after his death.
death of a humble historian
patna,(bihartimes): once, about a decade back, after attending a programme in a n sinha institute, patna, prof (now late) ram sharan sharma came out of its compound, waved his hand to ask an auto-rickshaw to stop. those days six-seater autos––unlike three-seaters now––used to ply on the streets of patna.
as the front seat had no space the auto-driver asked him to sit in the back. prof sharma did not mind sitting in the rear seat, which used to have very little space for a relatively heavy man like him.
he was then in early 80s. a scholar, an author of dozens of books and a leading voice of marxist historian yet he, despite old age, preferred to travel in a rickety autorickshaw of patna to reach his home in anandpuri in west boring canal road. this one example gives an idea of the simplicity of the man, who was the greatest historian of his time.
though he was a man of international repute, a retired head of the department of delhi university and the first chairman of the indian council of historial research, he chose to live in patna after his retirement.
he kept himself above the petty politics of the state in his over two and a half decades of the post-retirement period. yet he never minced words to denounce the saffron attempt to fiddle with history. he always considered rama an an imagery figure, more to do with faith and nothing to do with facts. therefore, to him there is no question of ram temple existing in ayodhya. he was among those who, with the help of historical evidence, suggested that hindus used to eat cow meat in the ancient period. and he was among those who strongly denounced the then nda government for stuffing non-historical facts into the history school-books of ncert.
yet when he died in patna the state government of the nda had to announce state funeral for him. chief minister nitish kumar himself visited his house and stayed there for more than half an hour.
this was simply because of his undisputed scholarly stature and his commitment to his views and cause.
once, a few years back, when prof irfan habib of aligarh muslim university came to release one of his books in khuda bakhsh oriental public library, prof sharma, a man of enormous humour, humbly narrated his shortcomings. in his brief speech he satirically hit out at those trying to play with history.
once when this correspondent got an opportunity to pay a visit to his house in anandpuri he was suffering from some problem in his legs. he was unable to have his morning walk as he was not in he best of his health. yet he talked, for about half an hour, with the same amount of humour, humbleness and humility.
in professor sharma's death not only bihar, but the entire country has lost a great man, who doubled as scholar-historian.
links:
- the times of india
- the telegraph