Patna,(BiharTimes): The theme of the third BiharTimes Conclave "Shifting Paradigms of Development in Bihar" evoked an interesting discussion on the inaugural session on Saturday morning. The Conclave was inaugurated by Mangala Rai, former Director General of the Indian Council of Agricultural Research and present Advisor to the Chief Minister of Bihar on Agriculture.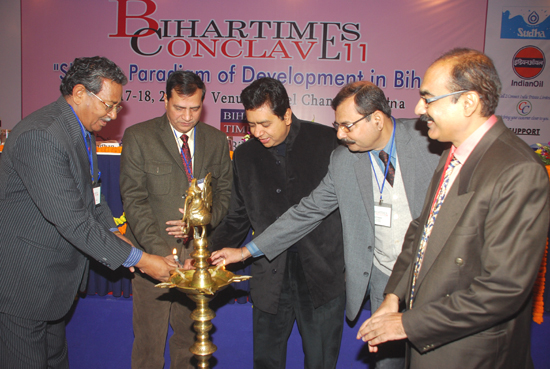 Challenges ahead: Pradhan Sanjay
Initiating the discussion Pradhan Sanjay Prasad, Vice President of the Washington-based World Bank Institute, highlighted the development made by Bihar in different sectors in the last few years but at the same time dealt with the challenges ahead as the state had only taken the first generation of reforms.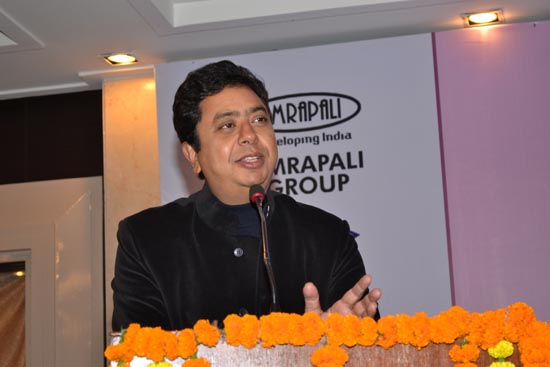 Emphasizing on the role played by the Information Technology in the development of the world he said that globally there are 4.6 billion mobile phones, which means that 70 per cent of the population has this facility.
Progress, but miles to go: Mangala Rai
Dr Mangala Rai, while speaking on the occasion, said that just good growth is not enough. In fact it should be seen how inclusive the growth is. For this, growth in agriculture sector is very important and Bihar had made a mark in this sector. He cited the examples of how a few farmers of Nalanda district created world record in paddy production this year.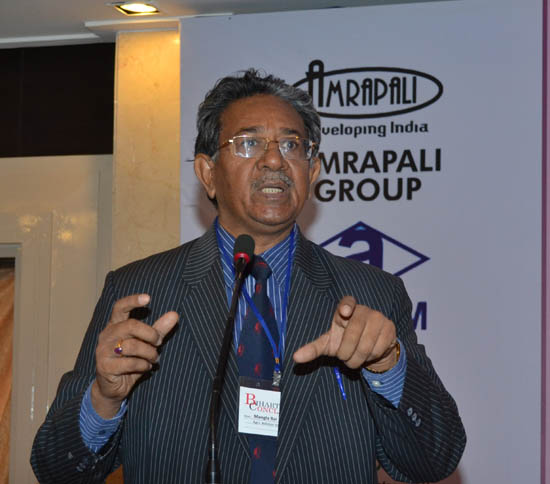 According to him agriculture is the biggest private sector but unfortunately it is unorganized sector. The need is to convert it into organize sector.
Referring to Pradhan Sanjay's speech he said roads have no doubt been built, but in doing so no care has been taken of the farm sector. The fertile soil from the nearby land has been used to make the roads broad and nobody bothered to see how "we are losing good land while building roads."
He said brick-kilns too are playing havoc with fertile land, which takes years of efforts to come up.
He regretted how Bihar had failed to make its mark in fish, egg, poultry and other related sectors, when it has enough of water and maize. In contrast Andhra Pradesh, with much less resources, had progressed immensely in these fields. He conceded that Bihar had made some improvement in dairy sector yet much needs to be done.
He highlighted the number of efforts the state government has taken in the farm sector and said paddy procurement was two lakh tonnes a couple of years back, whereas this year the target is 30 lakh tonnes. But the even bigger question is where would they be stored.
He cautioned as to how tbe area under cultivation is not expanding in India, which has 17 per cent of world's population but has just 2.4 per cent of world's land. It is the same which was several decades back.
He said that while private sectors are ready to invest in other sectors no such investment has come in warehousing sector notwithstanding repeated relaxation in the policy by the Union government.
Indians not planning: Anil Sharma
Anil Kumar Sharma, Managing Director of Amarpali Group, who started his real estate business from Rs five lakh but has now the annual turnover of Rs 3,500 crore, highlighted his rags to riches story.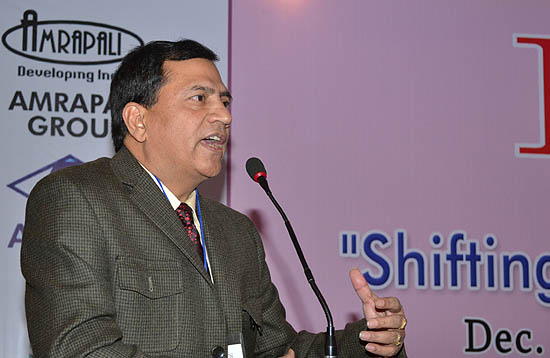 But he said how people of Bihar and the country as a whole totally lack sense of planning. The truth is that not only cities and towns, even villages need to be build under a plan. If a person gets sick in any village it is very difficult to bring him or her to road as no vehicle can reach at the doorstep.
He quoted renowned real estate personality of the world to substantiate his point. "India is growing but India is not planning. Donald Trump, globally renowned real estate tycoon, told me when I met him in Toranto."
Sharma said that real estate industry is the driver of Indian economy. His own firm employ 10,000 people.
However, commenting on the dismal scene in agriculture sector he said his father had to destroy 2,000 tonnes of potato in 2005 because of massive overproduction, though seeds were procrured for it specially from Pantnagar. There is absolutely no storage facility in the state for more growth in farm sector. "I suggested my father to hire a jeep to announce to the people in the vicinity that if they want potato they can take it free from here."
Slowdown to hit Bihar hard: Keshri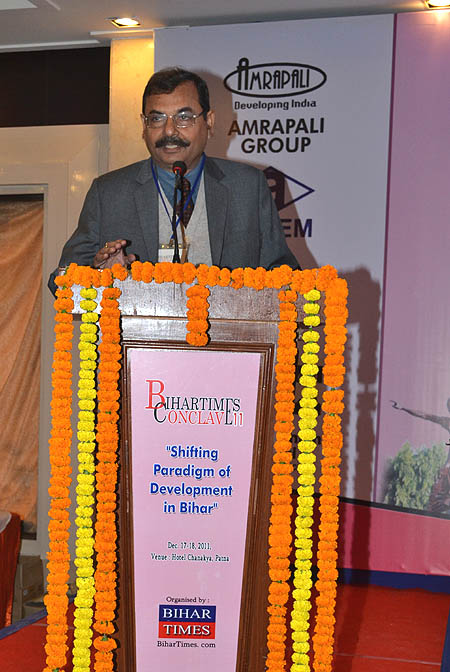 K P S Keshri, president of the Bihar Industries Association started his speech by stating that he does not accept ASSOCHAM report on Bihar, which says that there is no scope of investment in the state. On the other hand the FICCI survey on the state of investment in Bihar is being widely debated.
He said 70 per cent people complained of power shortgage, 55 per cent regretted that the state has poor skill and 55 per cent hold bureaucracy responsible for the state of affairs.
Against the general perception he said that Bihar had changed much in the last 25 years, but hastened to add that the slow down in national economy would hit the state most as central pool funding would naturally come down. Tax can not be increased much as there is no scope left.
Indirectly referring to several other speakers he said there is no fault in thinking global, but the action should be local. The truth is that there is no one left in the village even to do farming.
Corruption, loot everywhere: Dr Ajay Kumar
Noted physician and president of the Indian Medical Association, Dr Ajay Kumar, presented a totally different picture of Bihar and made it loud and clear that for common men and women nothing had changed in the last six years, especially in the health sector. "Yes a few of us in the urban pockets may have been benefited, but the rest is just bogus media propaganda and statistical jugglery. You want to know how data about growth rate and others are compiled; come on I will teach you this art," he thundered amidst applaud.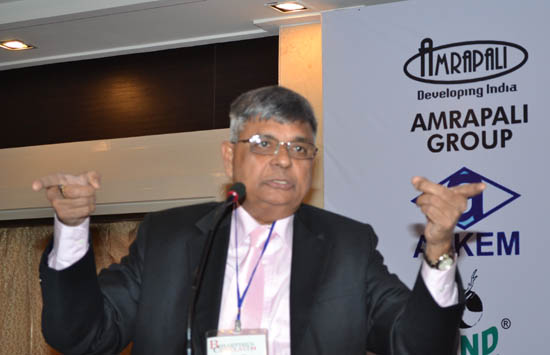 He said hardly anything had been done in the health sector. Only the centrally–sponsored National Rural Health Mission funds worth hundreds of crores have been misused, squandered and looted from top to bottom. There is no mobile hospital anywhere in Bihar. Those running taxis had been given the contract of providing ambulance and generator in primary health centres. Huge racket is flourishing in the name of private sector participation in this sector. The scene is very dismal yet this government is busy sketching rosy picture about the state.
Referring to the people living abroad he said that "they give fantastic mantras and ideas on Facebook and Twitter as if we are not aware of it. Go and see what is happening in rural Bihar."
Bureaucrats in Patna get news published that so many people are now turning up to primary health centres. The truth is that strongmen and their family-members in each villages are getting free medicines even if they are perfectly health. The rest remains deprived. "When such huge amount of medicines are coming from the Centre what else would be done," he added.
The former IMA chief said that while the number of medical cadres have declined from 15,000 to 3,500 in the last few years the state government instead of appointing fresh doctors are busy increasing the retirement age from 60 to 62 to 65 years. In the rural areas it is recruiting doctors on contracts. Is this the solution?
There should be one medical college for every 50 lakh population. By that yardstick Bihar should have 20 medical colleges. But where are they?
Donot talk about scarcity of doctor. There is no para-medical staff, no one to handle ECG. Recently it was announced that each district would have an ICU. The truth is that there is no hands to manage ICU in PMCH. All is being done to mint money.
He said that no youth had been left in Bihar. All the able-bodied men have left the state. Those who have been left behind are either engage in looting MNREGA money or some other government schemes.
Dr Ajay Kumar said that corruption is at its peak. No it is not from below, but from top. "Why the government is arresting lower division clerk or ASI, when all those on the top are neck deep in corruption," he asked while concluding his speech with a couplet.
Former Professor of Department of Physics, B N College, N N Pandey conducted the first session.