| | |
| --- | --- |
| | Patna,(BiharTimes): Bihar chief minister Nitish Kumar on Thursday attributed repeated droughts in the state to global warming and subsequent climate change. |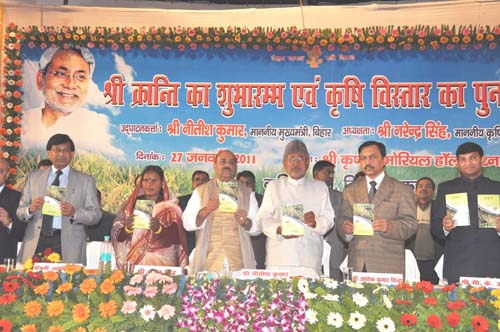 Launching a new farming technique, System of Rice Intensification (SRI), on Thursday, the chief minister stressed the need on evolving new scientific farming techniques to increase foodgrains output in the state.

He said water level is going down considerably, creating problem of water scarcity besides adversely affecting the irrigation potential. As a result foodgrains production was going down while demand was going up.
Nitish said that though the entire world is undergoing this problem India seems to be least bothered about it and not charting out long-term strategies to combat this challenge.

He said that eastern states like Bihar still have potential to increase foodgrains output but for this what is required is new scientific methods.
The chief minister was all praise for the efforts of Jyoti Devi of Fatehpur block of Gaya district, who has turned vast barren land into green belt with SRI technique and other indigenous methods.

Incidentally Jyoti won on the Janata Dal (United) ticket from Barachatti reserved constituency in the recently held Assembly election.

He also praised farmers like Ramsevak of Dobhi also in Gaya district and Kisan Chachi of Muzaffarpur as they emerged as role models by innovatings new methods of farming.

Nitish chose the occasion to announce the hike in remuneration of agriculture experts from Rs 8,000 to Rs 15,000 from next financial year. In the first phase, 2,300 experts have been appointed.

Speaking on the occasion the Agriculture Production Commissioner, A K Sinha, said in the first phase SRI technique would be implemented in 3.5 lakh hectares of land for rice production. Currently, Bihar is producing around 50 lakh tonnes of rice, which could be increased to 65 lakh tonnes with the new technique.