Patna,(BiharTimes): A Reader serving as the Vice Chancellor of an International University! Sounds somewhat grotesque, yet this is the fact.
If the RTI reply of November 22 last year is to be believed Dr Gopa Sabharwal, Reader in the Department of Sociology in the Lady Sri Ram College is the Vice Chancellor of the Nalanda International University, whose idea was conceived by the then President Dr A P J Abdul Kalam.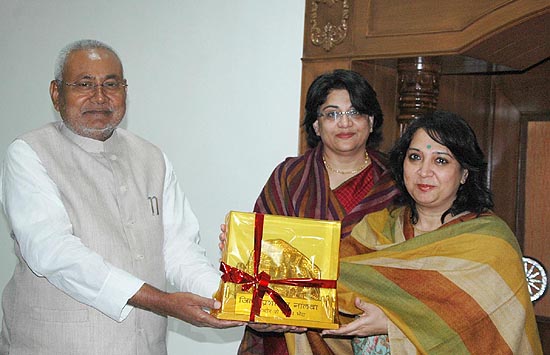 Though she has nothing to do with the Buddhist Studies, on which the University specializes, she as the VC draws a salary of Rs 5,06,513 per month, double than the VC of Delhi University. Not only that she and seven of her associates are drawing salaries since October 2010.

But that is not the strangest part of the story. What is ridiculous is that the Minister of State for External Affairs, E Ahamad, told Rajya Sabha on August 25, 2011 that no VC has been appointed by the government.

Interestingly, Dr Gopa did not meet the mandatory qualification set by the University Grants Commission (UGC) for the Vice Chancellors of the central and state universities.

Only a distinguished academicians with a minimum ten years of experience as a professor in a university can be appointed as the VC.
" Its shocking for all of us that how a mentor group headed by Prof. Amartya Sen recommended a candidate for the post of VC of Nalanda International University who is hardly known for his academic excellance or proven administrative capability. Can any senior academician would ever think of joining this university under current VC." said anguished economist Prof. N K Chaudhary.

The RTI reply was provided by none else but the Joint Secretary Nagendra Kumar Saxena of the same ministry. It revealed that on the recommendations of the Nalanda Mentor Group, Dr Gopa Sabharwal was formally appointed Vice Chancellor.

The government has spent Rs 2.11 crore on meetings held by a Mentor Group constituted under the chairmanship of Professor Amartya Sen in Singapore, Tokyo, New York, Delhi and Gaya to conceptualise establishment of the University.

As per the report the Group was formed in 2007 and was supposed to file a final report within a period of nine months, but it has not done so yet. The Parliament, however, enacted the law for it in 2010 which was notified on September 22, 2010.

But the moot question is how the a Vice Chancellor-designate was appointed even before the Act was notified for its establishment and that too at such a huge salary.

Not only that Gopa Sabharwal was appointed through an order issued by a Secretary in MEA on the recommendation of the Mentor Group.

Now questions are being asked as to who authorised the Mentor Group to recommend the name of the first VC of the university and why the ministry accepted the sole name proposed without seeking a panel of names required for such an appointment.

It is not only that: Dr Sabharwal picked up her friend Dr Anjana Sharma, an Associate Professor in Delhi University, as the Officer-on-Special Duty (OSD) on deputation, with gross monthly salary of Rs 3.30 lakhs, which is more than the salary of a Vice Chancellor in the rest of the country.

They also found nothing wrong in setting up headquarters of the university in a rented building in the R K Puram in South Delhi in January this year even though the Act specifically says the university's headquarters shall be in Nalanda district in Bihar.

The Standing Committee of the ministry says in its report just tabled in Parliament that the Nalanda project was estimated in 2007 to cost Rs 1,005 crore but this may have to be revised, and that the same Mentor Group has now become the Interim Governing Board of the University. In its very first meeting in February last the Board, according to the report, nominated adviser committee and the two persons representing India in it are Ms Upinder Singh, daughter of Prime Minister Manmohan Singh, and her colleague Ms Nayanjot Lahiri, who are not experts on any aspect of the Nalanda tradition or history.

BiharTimes has repeatedly highlighted how Historian Ramachandra Guha and scholar Prakash Bhanu Mehta refused to accept the offer of Vice Chancellorship of the University.

Its very difficult for any educated persons(who knows university system) to tolerate and digest this manupulations by some academicians and others. They tried their best to kill this great idea before it could flourish. Weak civil society,handicapped opposition and totally sold out media failed to raise their voice. No other state would have tolerated this mischief. Seen some enthusiastic friends forming a Nalanda group on net to express their deep concern. People from Bihar are leaders in media as well as as all academic institutions like DU, JNU and so on.BUT FOR WHAT ...........
Ashok Prasad
'''''''''''''''''''''''''''''''''''''''''''''''''''''''''''''''''
We cannot change what has happened already. With immediate effect, Dr Gopa
Sabharwal, and her friend Dr Anjana Sharma - should report at Nalanda with
their high paying salaries. This way, the economy of Nalanda will be helped.
If Nitishjee is serious about Bihar and fellow citizens of Nalanda - he can
provide Bihar Government's assistance in this matter and stop exploitation
of Bihar by influential people outside Bihar.
Biharees are not there for exploitation.
Anand M. Sharan
St John's, Canada.
.......................................................................................................
I fully support views expressed by Mr. Alok. and regarding others, one should 1st assess their own contribution towards the causes of bihar, before just commenting and citing on others' efforts in doing so. Sitting in AC rooms & Commenting is the easiest thing to do. First do something yourself for bihar, and then only one would be able to correctly assess other's contributions. Whatever, it is, at least they have started doing something for bihar. Where were you in Laluji's era. There is a lot of difference between saying and doing. Come in the field and try your hands in doing things for Bihar.
Amit Rai, New Delhi
.................................................................
The facts provided by govt. of India under RTI speaks every thing. You can cross check for your satisfaction …. She is still Associate Professor in LSR.
Regarding N K Singh conversation with infamous corporate lobbyist Niira Radia speaks everything about him. This is not a place discuss in details about him .
People of Bihar have not sent him in the Parliament to seek tax credit for Ambani. He is working on payroll of Ambani . Who didn't invest a single paisa in Bihar.
When we have such personality in Mentor Group – How people would rank that 'Global institute'.
For ref:
http://www.outlookindia.com/article.aspx?268459 (N K Singh –Niira Radia Conversation)
http://www.hindu.com/2010/11/30/stories/2010113063431200.htm
Above would clear every doubt about this man who is also a member of the Mentor Group of Nalanda International University. There is no dearth of highly respectable academic persona from Bihar. Sorry for deviating from main issue.
Vikas
............................................................................
Vikas Ji,
There is no reason why I should be obssessed with (for or against) anybody. My only point is sanity. How do I start passing judgement without hearing/reading the other side? What we have right now is only one side of story.

Regarding Radia tapes about N K Singh, I have gone through the entire tapes and I didn't find any objectionable talk between Singh and Ms. Radia. Blame it on my wisdom but so far I consider him a proud son of Bihar.

Coming to my closing comments (about bringing Nitish), just see below and you will find comments I was referring to. I don't subscribe to such chest beating without any substance.

Alok
-------------------------------------------------------------
Alok is very much obsessed with Nitish Kumar. Where is Nitish Kumar in this scandal ? Only N K Singh his party MP is in Mentor group. He is now well known through his infamous Radia tape conversation. Hopefully Nitish would stand with people of Bihar in denouncing Mentor group decision. Every citizen of Bihar having feeling for state can't think of speaking in any other language.
Vikas
.......................................................................
@ Alok, London.
I am jealous of Nitish Kumar because he has advocates like him sitting in London. Hatred is surely not. Alok is waiting for the day when 'they' will start blaming Nitish for why sun rises in the east, why he can't make it rise in the west instead. I am not sure when that will happen but I have no doubts that we would find many who would claim that the sun would have stopped rising in Bihar had Nitish not been around. I would not elaborate it because it would digress the real issue of NIU. Ajayji could arrange a separate debate on Nitish and rising of the sun.
Haarriss Ahmad Khan.
............................................................
It feels really good to see my own Bihari brethren so concerned about the state but would like to request them not to be too emotional. Lets wait, if there is any truth in this it will come out otherwise, it will die its own death. Media has its own interest in creating stories.

Its very hard to contruct something while it take only one finger to raise and damn it.All these people who are called names here are revered all over the world for their reputation. They have not become master in their field merely by writing blogs (like me) or talking on TV shows.Give them a chance and listen to their side of story too.

Regarding facebook, there is a lot of crap goes viral. If you start believing each one of them then there will only be anarchy.

Would have appreciated if BT had published 'the other side of story' too. That's the core principle of responsible journalism.

Alok, London
P.S: I also find jealosy and hatred in SOME of the comments here. All such people should (or will) realize one day that these attributes do not take you far in life. I am waiting for the day when they will start blaming Nitish for why Sun rises in the east, why he can't make it rise in the west instead :).
----------------------------------------------------------------
I would like to request Bihar Times to file a PIL in Patna High Court, against appointment of Dr Sabrawal to VC post and have her appointment declared null and void. Also she should be made to repay back any monies she collected as VC, failing which it should be recovered from her PF.

Rajesh
............................................................
Pranav ji, agreed with you on highly insensitive intelligentia and opinion makers of Bihar. You very rightly indicated that many of them in the line for govt. patronage like. Many of them who often raise their voice on small pretext areonly seen during govt. programmes. It happens everywhere but what about Media of Bihar. Despite all factual evidence --------- No body dares to write any thing on this topic which is being widely discussed on net especially on face book. If Media is so helpless then what to talk about others.
Agreed with most of comment writers who told in plain words to Amartya Sen and Meghnath Desai that don't take Bihar for granted .
Ravi Sinha
...............................................................
@Mukesh Kumar, Mumbai.
I sympathise with Mukesh Bhai for his thinking that I couldn't have understood the 'entire study' because he is too noble hearted to even think of the nexus present everywhere.
There is a persian proverb, 'Man Tora Haji Bagoyam, Tu Mora Haji Bago' which roughly translated means 'You call me Haji and in turn I'll call you Haji'. This story is about two thieves who innovated this idea to build their image. Please don't take it literally but there is much similarity one can find in the discussion on Nalanada International University and its V.C. No one should be beguiled by the media generated aura of Nitish Kumar when discussing serious issues. Let us put some straight questions.
Why Nitish Kumar and his learned colleagues are speechless over the 'nainsafi' of centre in the case of NIU while at every step he finds fault with the Centre?
Is it because Nitish gets all the accolades for his 'wonderful works' in return? After all who would not love a 'naukri' of sitting in Delhi and getting over sixty lakh rupees p.a.?
Is there any doubt about N.K. Singh's affiliations?
Why Nitish Kumar is using all his intelligence only for CUB-AMU and not using those for NIU?
Haarriss Ahmad Khan
Muzaffarpur.
...................................................
There is certainly a difference between the two cases. As far as CUB is concerned it is in the conceptualisation stage while NIU is in the construction stage and Nitish Kumar has taken pain to acquire and allocate land for this University despite all odds. The issue here is why the University is being run from a makeshift office located in Delhi and not in Patna or elsewhere in Bihar itself. I would request to all that please dont meddle things together as it will only complicate the things and will distract our attention.
As regards your issue with the JDU and BJP for taking credit for this University is concerned, I would humbly submit that it was Nitish Kumar and his governement only who elaborated the idea with the Honorable president Dr. APJ Abdul Kalam or at least took cognizance of the idea of Dr. Kalam and got all the formalities related thereto fulfilled and hence, we cann't take away the due credit from Nitish government. Off course, Nitish government should raise the issue of makeshift office of the University with the centre. But the larger issue is the ad hoc and irregular appointments of VC and others which may be detrimental to the cause of this nascent University. We must not look towards governemnt only, the intelligentia must take congnizance of the issue and raise it at all possible fora. It is to be reminded that Maharashtra or erstwhile Bengal are ahead of us not only due to the leaders of the respective states but due to the aware, focussed and sharp intelligentia who will not spare anyone or anybody posing impediments to the development of the state. I think, we must learn from them and take it very positively for protection of our own rights instead of involving ourselves in squabbling and all.
मुकेश कुमार
४२/४१३/ टाईप-३
एकता विहार, सी.बी.डी., बेलापुर,
नवी मुंबई, ४००६१४
महाराष्ट्र
मो. ०९८६९३५३७५९
...................................................................
Mr Mukesh Kumar seems to have misunderstood Haarriss Ahmed Khan's mail. The mail is saying that why is the chief
minister not protesting the running of Nalanda Internaitonal University from R K Puran in New Delhi. He should have done so because he has repeatedly been stating that the Central University of Bihar should be set up in Motihari and not in Patna, where it is at present functioning.

After all N K Singh is the Janata Dal (United) MP too close to Nitish and his role too is known to all. If the chief minister insisted and forced the Centre to shift AMU off campus from Katihar to Kishanganj and is making similarl demand on CUB (from Patna to Motihari) he should at least protest to the Centre now and demand that the Nalanda International University be brought immediately to Nalanda, or at least Patna for time being.

There is enough of rented space in Bihar to temporarily run the Nalanda International University in Bihar.

It is true NIU is an international university and the chief minister has nothing to do with it, yet the Janata Dal (U) and BJP men have always been taking credit for it for no reason whatsoever.

They can at least raise the genuine demand. Their silence is deceptive.

It seems that all the political parties, be it of Bihar or Delhi, and intellectuals and mediapersons
are involved in this conspiracy.
Amna Kauser
----------------------------------------------------------------------
It puts a question mark on the mentor group headed by Sen. and the so called search committee for the appointment of VC..but we all deserve it becoz civil society as well as intellectuals are not reacting to it..wy so fuss on it.. we all felicitate them during their picnic trip to Patna and nalanda... a joint memorandum should be sent to PM Manmohan singh...for quick action...ministry of external affairs should probe its R K Puram office as well as Jorbagh house of VC..the total amount spent during the last two years on series of meetings...etcWhy the eminent scholars Delhi based intellectulas have also failed to react following the publication of similar news in Tehelka..we are deep slumber...we will not react...its the motto..even the retired teachers, bureaucrats and scholars are not reacting...they might get some suitable post retirement benefits from Nalanda...they are hoping to get. dats wy they are not reacting..
Pranav K Chaudhary
-----------------------------------------------
Why the eminent scholars from Bihar were totally kept aloof from the advisory committee and Mentor group there is no dearth of eminent scholars from social sciences from Bihar. The ambitious project finally landed into a racket. Its high time for people of Bihar and govt. to take immediate action otherwise it may become another 2G or commonwealth game scam.
Vivek
...................................................................................
@ Haariss Ahmad Khan
I think, you haven't understood the entire study. It is not the Nitish Kumar government who has to take decisions in the case of Nalanda International University. It is the Ministry of Foreign Affairs of the Union which is responsible for all these deeds. Please don't drag your sword at any and every non-existent reason. It is high time for Bihari intelligentia to focus at the issue and put pressure on the powers that be who are taking wrong decisions. As it is the Centre and not the State Government which is responsible for such misdeeds, we must concentrate on a strategy which can put the persons concerned to task. We should not have any grudge towards anybody. We have just to heed that no harm is caused to this noble idea which has the potential of putting the state on the fast track of revival.
--
मुकेश कुमार
४२/४१३/ टाईप-३
एकता विहार, सी.बी.डी., बेलापुर,
नवी मुंबई, ४००६१४
महाराष्ट्र
मो. ०९८६९३५३७५९
........................................................................................
"According to documents sourced, Sri NK Singh seems to be the originator of the idea of "mentor group" and other preparatory nominations, financing etc. This very clever retired IAS officer of the Bihar cadre, seems to have utilized his several high level contacts to put himself and Amartya Sen at the driver's seat in handling a huge budget with virtually no parliamentary debate or a project report. Sen, a close buddy of the PM, Man Mohan Singh, has also been looking for such powerful sinecures in India as a stepping stone to further heights of privilege and patronage. His credentials
for spearheading the building up of Nalanda University is minimal. It is not only the appointment of two ladies who have virtually nothing to do with Buddhist scholarship or proven public administrative skills who put together are taking away more than Rs one crore per annum from the Indian taxpayers' money, but several actions in this matter by the Ministry of External Affairs have no precedence or validity under statutory Government regulations. NK Singh and Sen must take the responsibility for keeping Dalai Lama out of this Nalanda Project to please the Chines government and for the high-handed actions so far in this project costing several crores of public funds.
R.Venkatanarayanan
22/14A, Noida (UP)
--------------------------------------------------------------------------------------
First of all accolades for continuing the courage to expose the misdeeds ' not allowed to be published' in Bihar. At this juncture while agreeing with almost all the comments I would like to draw attention to one more thing. Nitish Kumar led government seems to be committed to establish the Central University at Motihari, which is a very nice thing to do. In fact Nitish Kumar seems to be quite determined to have this University there but when it comes to Nalanda International Universtiy the state government and the chief minister seems to not liking the same logic as it is put in the case of Motihari. Can anybody explain it? Nalanada has better connectivity and electricity in comparision to Motihari.
Nalanda is nearer to Gaya with international airport. The land for the said University has already been acquired in Nalanada. So, why the VC and OSD are enjoying the pacakage of nine lakh rupees per month sitting in the cosy rooms in Delhi? It seems that Nitish Kumar just wants to have political gains by raising voice for Motihari while everybody knows that the facilties there are much lower than Nalanda.
Any clues?
Haarriss Ahamd Khan
Muzaffarpur
...................................................................................................................
Why d vibrant bihari intellectuals are maintaining discreet silence..its a greatest joke on Bihar.. institutions.or ....centre for excellence are known by individual scholars...for example DU's political science was known by Randhir Singh, Indian history in JNU by Romila, medieval Harbans Mukhiya, modern Bipan Chandra, sociology Yogendra Singh...In Patna university in early 50s history department was the best in the country...historians like K K Dutta, Y J Tarporewala, SH Ashkari, Qeyamuddin Ahmad, S sarkar, R S Sharma...A S Altekar etc In Delhi university History P S Gupta, Sumit Sarkar, Suresh Tendulkar, Andre Betteile etc Its time to speak out...dont be afraid....
Pranav K Chaudhary
------------------------------------------------
Surprised to see the name of N K Singh in mentor group, whose name prominently figured in the recent Radia tapes scandal. See how can we think that these fixers would bring some great academician as VC of Nalanda International University.
There is no dearth of academicians from Bihar whose credential and academic excellance are well known.
Vikas
,,,,,,,,,,,,,,,,,,,,,,,,,,,,,,,,,,,,,,,,,,,,,,,,,,,,,,,,,,,,,,,,,,,,,,,,,,,,,,,
I was aware of the new appointment a year or two back when I had read it in the newspapers but did not know the details.

After reading various comments here, it has given me a very good insight into the problems such as why the university head office is still located at R. K. Puram in Delhi not Nalanda where it should actually be or why many eminent people from outside do not appear to be interested in coming to Nalanda ( I am not saying that Bihar does not have eminent or qualified persons )?

Possible reasons can be Naxal problem and /or goondagarthy or dacoity for which Bihar has unfortunately become famous for i.e. law and order problem especially in Biharsharif – Rajgir area?

I can quote instances which I have witnessed myself; the first one is - I visited Mount Vipul where Lord Mahavir obtained enlightenment just opposite to the Kund ( the heart of Rajgir town ). I and other Jain pilgrims had to have police escort; it was just two years back or so. One can visit the following website to see the nice area on the mountains at Rajgir ( see Fig. 20 onwards )

http://www.engr.mun.ca/~asharan/bihar/jainism.pdf

Secondly, I accompanied a U. S. Congressman from New Jersey, U. S. A. – to Nalanda and Rajgir. We needed full police force to visit – all during the day time.

Thirdly, a few years back – even the Dalai Lama could not be taken by road – from Rajgir to Bodh Gaya by Road. They had to bring him back to Patna and then flown to Bodh Gaya.

Fourthly, many of us who are from Bihar know ( published in newspapers ) very well about the illegal manufacturing of armaments in this area and near Monghyr.

I am not surprised that the university is running from Delhi where Dr Gopa Sabharwal feels comfortable – whether or not appropriate to accept the job or continue to live in Delhi.

Can Dr. Amartya Sen stay at Nalanda – Rajgir area himself ? If not , why propose a lady to do so ?

The place ( Nalanda – Rajgir ) has become exactly the opposite of what Lord Buddha preached.

Anand M. Sharan
St John's, Canada
...............................................................................
Congratulations for this story. It's unfortunate that dreams of our visionary CM is shattered by the attempts by Prof. A.Sen and his colleagues i.e. members of mentor group. I saw a very good comment by Mr. Vikash regarding revival of Presidency University. He is right by saying that Prof. Sen or Prof. Basu cannot do this dirty joke in Bengal. Intellectual of this state will never allow this to happen. One more thing I would like to add here is till we keep on surrendering our developmental agendas to intellectuals of outside Bihar they will keep on doing the same thing. No one from outside Bihar likes development activities in Bihar. I am aware of Prof. Sen's social and developmental works in India. Unfortunately I live hardly 500 yards away from him, I can tell you that for this place he has not done anything. Although, he always proudly claims that he belongs to Santiniketan.
The next culprit is our high profile HRD Minister, for whom the subject history revolves round two scholars, one is a daughter of Prime Minister and another Prof. Nayanjot Lahiri is a wife of him supreme court colleague. Both of them can speak and write very good english, but as far as writing history is concerned we the students of history is yet to see any original work from this Punjabi duo. In your story you have rightly pointed out their association with Buddhism.
I would like to remind the society by saying that great scholar of Ancient History Prof. D.N.Jha is still working but probably either Dr. Subbarwal or Mr. Adv. Sibble are not aware of him. Other great historians like B.D. Chattopadhyaya and many more from our country were deliberately not contacted for this job. I personally know the fact that Prof. R.S. Sharma was ignored.
Here I will blame N.K. Singh saheb also because he played great role in formation of this mentor group. Where Prof. Sharma and other great scholars from the state country were ignored. People like Tansen, Sugato Bose and other pravashi scholars were preferred because of their foreign identity.
I will stop now because many more dirty things will come out which I don't want.
Dr. Anil Kumar
Department of AIHC&A
Visva-Bharati, Santiniketan. (WB). India.
.................................................................................................
Amartya Sen is also in the Mentor group of Presidency University of W. Bengal. Can he afford to take this adventure in his home state?
Vikas
----------------------------------
It is amazing! Bihar Times, once again, has revealed a shocking story on the proposed "International Buddhist University "in Nalanda in Bihar-all bad things emanates from Bihar., thanks this time because of "knowledge and inteectual brokerings of famed Economist, Amartya Sen"!
Any way, one has heard about "power brokerings, share brokerings, dalal brokerings etc but not knowledge and intellectual brokerings in the globe"-that is what happening to open proposed Nalanda International University, a brain and dream child of ememinet Scientist anf for mer President of India APJ Kalam and subesequently lapping up ideas by Bihar chief minister, Nitish Kumar, the only thing, perhaps, Nitish did good thing for this backward and under-developed state during his chief ministership! With great efforts Nitish had got ample of land acquired near the ancient Nalanda university for the proposed international university and handed over the union government to start work on the proposed world-fame university-Bihar government did every things in jet-set speed for bringing this ambitous project in big way in Nalanda, a place of ancient civilisation and culture, mainly of Buddhist importance!
The mentor group of the univesrsity led by eminent economist and Nobel prize winner Amartya Sen, who was appointed by the union government about two years back for giving shape to the university, was to submit its report within nine months-but instead of finalising report, the mentor group led by Sen started indulging in "knowledge brokering and intellectual brokering." Mentor group of Sen, having eminent personalities from India and abroad, without any advice and confirmation, did appoint a vice- chancellor of the proposed Nalanda International University ,one Ms Gopa Sabharwal, a reader in Sociology in the Lady Sri Ram College , Delhi under Delhi university, violating norms, rules, act etc and also guidelines of University Grant Commission. A right to Information petition and its reply by the Union External ministry has surprisingly and apparently revealed all these irregularities and later on it was confirmed in Rajya Sabha by the minister of state external affairs,E Ahmed , making it amply clear that no VC has been appointed for the proposed university, which was to start work at the estimated cost of over Rs 1100 crore, to be met by union fnance and also globe countries, having Buddhist connections.
Surprisingly and sadly, university office, which should have been located in Nalanda itself, is located in posh colony of Delhi for extending more and more extra benefits to its "illegal appointed V-C and other staff"More over "the Gopa-type intellectual and scholar" does not even fulfil the criteria and qualification of such prestigious university-for appointment of V-C, one should be of professor rank , having ten years experiences. of professorship .She has niether any specialisation on Buddhist theories and principles, the proposed university to be specialised-she is just a reader of obscure Sociology subject-there is further need to examine her credential and qualification to become even lecturer in the prestigious Lady Sri Ram College, Delhi! Not only that she has appointed one of her close friends and her "sakhi" (in local parlance in Bihar), Ms Anjana Sharma officer-on special duty. While Gopa is getting over Rs five lakh per month as salary, Anjana is getting over Rs 3.5 lakh per month as salary.
Intrestingly, mentor group of the proposed university, led by sen has spent Rs 2.11 crores at different of i ts meetings in different parts of the world.
Is it knowledge brokering and iintelectual brokerings of Sen? Who is he to appoint V-C of the university? Is Sen not misusing his influence and his credit of Nobel prize! Was he not a man to initiate a campaign to appoint one of the daughters of PM Manmohan Singh, who is also a reader in Delhi university as V-C of the proposed university to defame Manmohan singh? But upright and having proven integrity, Manmohan did not come under the trap of Sen and reportedly advised her daughter to keep away from such allurements! People of at least Bihar must remember that Amartya Sen is the same "Economics scholar", who had copied the rural economics formula of Late K N Prasad, Professor of Economics in Patna university and former vice-chancellor of the prestigious Patna university. To prove all these copying , I have still the book on rural economics of Prasad with me, which he had written much much earlier than Sen became an eminent Economist and got Nobel Prize , on specialisation of mainaly rural economics, copied from K N Prasad 's book! Anybody can share the said book with me!
Where from this Gopa came to Sen mind? At least one of rajya Sabha member of JD(U) and a seasoned former IAS official N K singh, a member of the Nalanda mentor group, led by Sen should have put the facts clear and straight and advised Sen to keep away from appointing Gopa as V-C of the proposed international university, to be set up in Bihar! Many members of the group are from outside country but N K singh is from India , Bihar-at least he should have gut feeling to limit the functioning of mentor group about the shape of the university and its courses of international standards as per memorandum of understandings with union government. The same Sen has been appointed chairman of the mentor group of raising standard and complete autonomy of the world-fame- Presidencty College , Calcutta by the Mamta Bannerjee government in west Bengal- Now the entire Bengal and its conscious people will have to keep close watch over the style of Sen's
"intellectual and knowledge brokerings" in giving a bad name to Cal's Presidency College.
At least Nitish must seek clarification over all these controversies from union government and Nalanda international university mentor group, led by Sen. Nitish is said to have very closeness with Sen. People of Bihar should also rise to the occassion to prevent the evil design of Sen to "kill this university before it takes definite shape"
K K Singh, Journalist, blog www.kksingh1.blogspot.com
---------------------------------------------------------
Bihar Times is now fully into the investigative journalism mode. I was perturbed to read the news of the appointment of the VC of Nalanda International University in Bihar Times. I wonder if the same has been discussed in the other mainstream newspapers and media. This is a matter of great national concern and should not be ignored. Caesar's wife must be above suspicion. I hope, people responsible for it may like to examine the lapse if any in the process of appointment after reading your news.
Dr. Mihir Bholey
Ahmedabad
................................................................
Now this is really a shocker. It tells how do all these guys involved with NIU setup, including the PM and Amartaya Sen, take NIU as, certainly not seriously. Though a reader too could be learned and capable enough to work as an efficient and dynamic VC, in practice is it has hardly been seen. Narration of importance of Nalanda in Indian history has become only a matter of intellectual talks, but when it came to implementation, now we can see the Leepa Poti.
It also raised few questions for us, we Biharis, that why people still don't want to come here. Many learned and great intellectuals were contacted for this position before helplessly giving it to Gopa Sabharwal. Hardly anyone shown interest. NIU was supposed to be an internaitonal university, the best of India and its boss should have been none less than someone as a putative candidate for President or VP, like those who become in JNU. In every manner gravity and stature of NIU and notches above JNU or one may say that JNU does not stand even eligible for comparison with NIU. So in that manner its not less than insult of NIU and the associated history. It tells that today none cares about your past, not even your own Bihari intellectuals, who better prefer to sit in Delhi instead of bring back the glory of Nalanda despite of such international support. There are several highly intellectually rich and competent Bihari intellectuals, but strangely they did not onyl turn up, they also did almost nothing for pride and cause of Bihar and efforts like NIU. We are actually paying due to such useless "Taad ka Ped". Irony is that, a State like Bihar, well known for its hunger for education and intellect right from ancient era to present, is facing the problem, where none wants to help it, and its education system lays in tatters, while Biharis migrate outside and state government stays negligent on this issue instead of going heavily committed and non-compromising. The HRD, DST and all related ministries of Bihar at current has become one of the worst and hopeless ministries. They should have been made most effective to quench the migratign students and inverse the brain drain, and justified the thrust of Bihar for educational culture. Bihar should have housed best academic and research Institution of India, and this is possible only when the state government does some out of way extraordinary measures. Be it CUB or NIU, Bihar is only setting a bad example at now.
Ravi Shankar
...........................................................................
Its highly digusting ! The whole process of branding of Nalanda University would backfire. The ultimate loss would be of Bihar. Why no one opposed these moves. Amartya Sen used this opportunity to oblige his near & dear. Ultimately who cares for Bihar.
Sandeep
.....................................................................................
Shame to the current dispensation at the centre!!!! I am completely disgusted at the treatment meted out to this prestigious Institution which was contemplated to be the flag bearer of Indian diplomacy and was conceptualised by Dr. A.P.J Abdul Kalam as a bridge between history and modernity. It epitomises the real picture of the country as to how higher education and foreign policy in this country is being run by an "honest" prime minister. The veils are torn apart day by day. It is also revealing in sense that a Bengali intellectual like even Amartya Sen can not think in sync with any issue which can remotely benefit Bihar. It is shame for the persons like N.K.Singh who dons a membership in the Governing body of the University (so called mentor group) and could not resist the moves of the powers that be to stash nears and dears in this University. It is also disgusting to hear that the University is being run from a rented building in New Delhi. I think this University is also going to be another white elephant like Mahatma Gandhi Antarrashtriya Hindi Vishwavidyalay, Wardha which has been converted into a "charagah" of officers. I wish there was no mentor or mentoring group like this absurd group having been constituted in this case!
मुकेश कुमार
४२/४१३/ टाईप-३
एकता विहार, सी.बी.डी., बेलापुर,
नवी मुंबई, ४००६१४
महाराष्ट्र