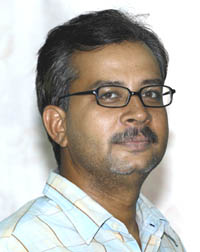 it was the fifth day of the week, friday, 27 january' 2012 and it turned out as a real 'black friday' of my almost 15-years of journalistic career in bihar.
there was a murderous assault on me by a local bjp leader her son, rituraj who is an indusind bank employee, driver and some other goons. bjp is a ruling alliance party in bihar.
when the ruling alliance nda led by nitish kumar of janata dal-united was voted to power in bihar in november 2005 it brought not only a heave of a sigh of relief but smile on their faces. riding on hope, expectations and lot of faith that smile got broader and broader every day.
being a working journalist i too had been a witness of those overt expressions of changing body-politic. reality is my ageing parents and family too were very much part of that public sentiment.
on that historic, as many described, day' i'd written the story in my paper captioned "bihar witnesses second independence day"!, and, perhaps it was the most popular public sentiment reeling in the state at that time.
how could i be not a part of that changing scenario?
bihar chief minister nitish kumar promised much and started delivering much in a short span of time substantiating our belief, faith and expectations.
crime & kidnapping became kaput, absence of governance turned into good governance. bihar no longer was a barbaric badland but a state picking up fast on every development index.
chief minister nitish kumar became a brand and was widely appreciated for his job well done.
rule of law finally returned back to the state. my little daughter of 11 years now had started waiting for her school bus in the morning without any seeing any sweats crowding at her mother's forehead.
my father started coming home after withdrawing money from bank on his own, my mother started visiting grocery shops and neighbours wearing gold chain, though feeling a bit apprehensive.
faith in governance seemingly was restored and it felt good. now, we're part of the state.
like my other journalist friends i too was busy upholding my professional commitment, dignity and integrity, though, occasionally, it appeared to have rubbed some political shoulders in some corner the wrong way.
so far, so good!
but, what i didn't realize was my faith, my expectations and my hope would be belied so soon and so brute on the face. that my whole world would get a jolt so bare and banal that i'ld be shaken writing stories on 'good governance'.
my and my family's sentiment gone sour on that black friday. and, so of many other residents living in my residential complex in rajendra nagar locality of patna.
it was a late winter sunny morning and i had come downstairs of my residential complex to soak in the sun over a cup of coffee along with another resident.
we were in the small park area which we're developing for the children of the complex to play and make merry around.
its an old dilapidated government apartment, charminar apartment neglected dangerously for the last one decade in the octopus clutch of two office bearers.
while watering plants i was enjoying the bright sun playing hide & seek with the complex blocks and making plans with other resident on what to de done next and how for the beautification of the park.
but, suddenly a vehicle screeched to halt near me. i thought a black cat might have crossed their path signaling bad omen and had forced their sudden halt.
but i was sadly-badly mistaken.
a local bjp leader ms madhu verma, her son rituraj and their driver came out of the car and charged me of pilfering petrol from their car. ms verma lives in the same residential complex.
shocked and amazed i suggested them to go to police station to lodge the complaint.
lo! some other goons too suddenly reached the spot from nowhere and targeted me, abused me and assaulted me with baseball stick. "saala, nitish kumar ka chamcha patrakar banta hai…dekhte hain kaun bachata hai tumko…maro isko…. .", was all the bjp leader was shouting while punching her handbag on my face.
some of them were even armed as the other residents peeping out from their balconies and windows said.
whoever came to rescue me were also beaten up, including my elder brother and basant singh.
by the time someone called the police i was left with bruises on my face and blue-black straight lines of scars on back. my looking glass was broken and blood was trickling down from corners of both the eyes. i was nervous and trying to regain my lost sense.
it was shock of my life---and, for my family too.
i'm still leafing through file copies of report to find out when i'd written something to appease nitish kumar. sorry, sir i couldn't find even one. i wrote only what i thought it right to write. i'm helpless.
thankfully my eleven years old daughter, mythri was in school and she couldn't stamp my bleeding face in her memory forever. though, my wife and aged parents came down and were benumbed, emotionally jolted perhaps.
not only me, but with the same baseball stick they also broke the plant pots which we'd placed in row around the park few days ago.
that was more painful. we'd nursed the plants from their tiny days---and, they were lying on road being crushed under bloodied boots of the attackers.
now, tears mixed with blood were trickling down on my winter pullover.
the way that attack was carried out on me made it clear that it was full of criminal conspiracy.
still, i was completely at loss to figure out what might have prompted them to attack me---so brutally, so directly.
however, what was most unfortunate was that when the local police officials led by kadamkuan officer in-charge mr jyoti prakash reached the spot he started helping the bjp leader ms verma drafting her fir against me.
they did not take cognizance of my complaint and lodged ms verma's report as first report and mine as only a counter report.
then i smacked some foul play from the political party bjp and started recalling my recent reports which might have hurt some of the party leaders sometime, somewhere.
but, i couldn't find one.
i was taken to a nearby government hospital where i'd to wait for over half-an-hour to get the first aid.
meanwhile, the local media had flashed the news over the incident and my journalist friends reached me.
i really thank them with all my heartfelt gratitude who not only withstood by me day-night but also did whatever they could do for me. their solidarity was overwhelming.
i can say with all respect that i've got such friends here. i feel proud having them around.
next day, the news was out officially in print and ware.
and, the top state bjp leaders soon ganged up in saving skin of their party leader. the local bjp mla, arun kumar sinha reportedly influenced the police officials and started visiting ms verma's flat with guards.
other local bjp leaders, looking like goons too began swarming the complex in groups. a reign of terror apparently prevailed in the residential complex.
the children stopped coming down to play in the evening; the guard fled away and the maids stopped coming for chores. even stray cats who had been roaming freely in the complex stopped mewing.
i made appeals to almost all those in power seeking justice. the senior journalists made hue and cry but there was no action yet.
meanwhile, the attackers got bail from court and indulged in making calls to those who could 'manage me for a compromise'. someone known to me too pitched in to influence me for a compromise or 'just to know what step i'm taking against ms verma'.
i know them all. and, request them to be objective in life.
after nine days of the incident bihar chief minister nitish kumar told media persons that he was fully aware of the incident and "assured action".
two days later, an inspector of another police station visited me and took all the details. he said he was being assigned to investigate the incident.
at least some action seen after almost 12 days!..hope of good governance, perhaps, was floating somewhere! still, all was not lost.
ever since the incident i'm still trying to find out why i was assaulted by the bjp leader and her goons and, still, i find myself completely clueless.
the state bjp leaders from top to bottom and others supporting them apparently are trying to hush-up the incident as linking it with the 'society of the complex issue'. its plainly a ploy to divert the attention of the incident and colour it with a different brush.
the myopic bjp leaders many of them know me closely even did not bother to make a call to know the facts. perhaps, someone from their own tribe was involved into it.
or, this is what they are master at!
this is the first piece i'm writing since the incident as i get nervous and nebulous each time i sit down to write stories. for what, for whom…starts pinching my head and i just get over my seat.
my daughter is traumatized with the incident so much so that she now has dropped her plan to become a journalist. loss of innocence.
i'm hurt.
i hope with scars on my face get erased with time she too would get emotionally bold & brave.
we also hope that someone who had promised 'good governance' and had raised our hope, expectations and faith would come out brave and do something that they could be restored again.
we firmly believe he is not jaundiced, coloured or myopic like bjp leaders.
-----------------------------------------------
* patna based senior journalist
shocking!!!!! it's time, the journalists should read the writings on the wall. they must, at least, have the courage to register protest; sadly most of them have gone in silent mode after making their customary presence at the "protest meet" ritual.
manoj chaurasia
patna