| | |
| --- | --- |
| | patna,(bihartimes): documents detailing the expenditure incurred on organizing global meet for a resurgent bihar in 2007 (january 19-21) have made some interesting revelations. |
for example, while many non-resident indians (nris) and non-resident biharis (nrbs) came on their own cost several organizers charged to and fro air fare from delhi to patna.

besides, an amount of rs 1,05,457 was spent on the airfare from london to patna of lord meghnad desai, a british citizen and member of house of lords of united kingdom. he is now a regular visitor to bihar because he is associated with the mentor group of nalanda international university.

though lord desai is essentially associated with the london school of economics he is now considered by powers that be in bihar as an expert on the state. a few months back his name was dragged into the controversy revolving on phd thesis of saif-ul-islam gaddafi, son of former libyan dictator, muammar gaddafi.

this thesis row apart, he is regarded in high esteem in bihar. therefore, his service is repeatedly sought for branding the state outside. incidentally, he is not originally from bihar, but from gujarat.

he is a member of mentor group (now called governing council) of nalanda international university, which is headed by nobel laureate amartya sen. recently one of the meetings of the mentor group was held in new york in which more than rs 56 lakh was spent. it remained a mystery as to why so much amount of country's money was spent in holding the meeting in new york when the united states is not a buddhist country nor is it any way associated with this project.

lord desai was also invited at the function on the release of a book on special status to bihar in may 2009. chief minister nitish kumar was also present on the occasion. a researcher from jnu, atul, challenged the state government by stating that the book was in fact his work.

if rs 1,05,457 was spent on lord desai's trip for the january 2007 global meet rs 10,501 was spent on the air fare of upendra nath, rs 33,900 on dinesh awasthi, rs 11,796 on v shridhar and rs 54,031 on gerry rodgers.

there are no dearth of people who question lord desai's knowledge and interest about bihar. besides, why should he be interested in branding bihar?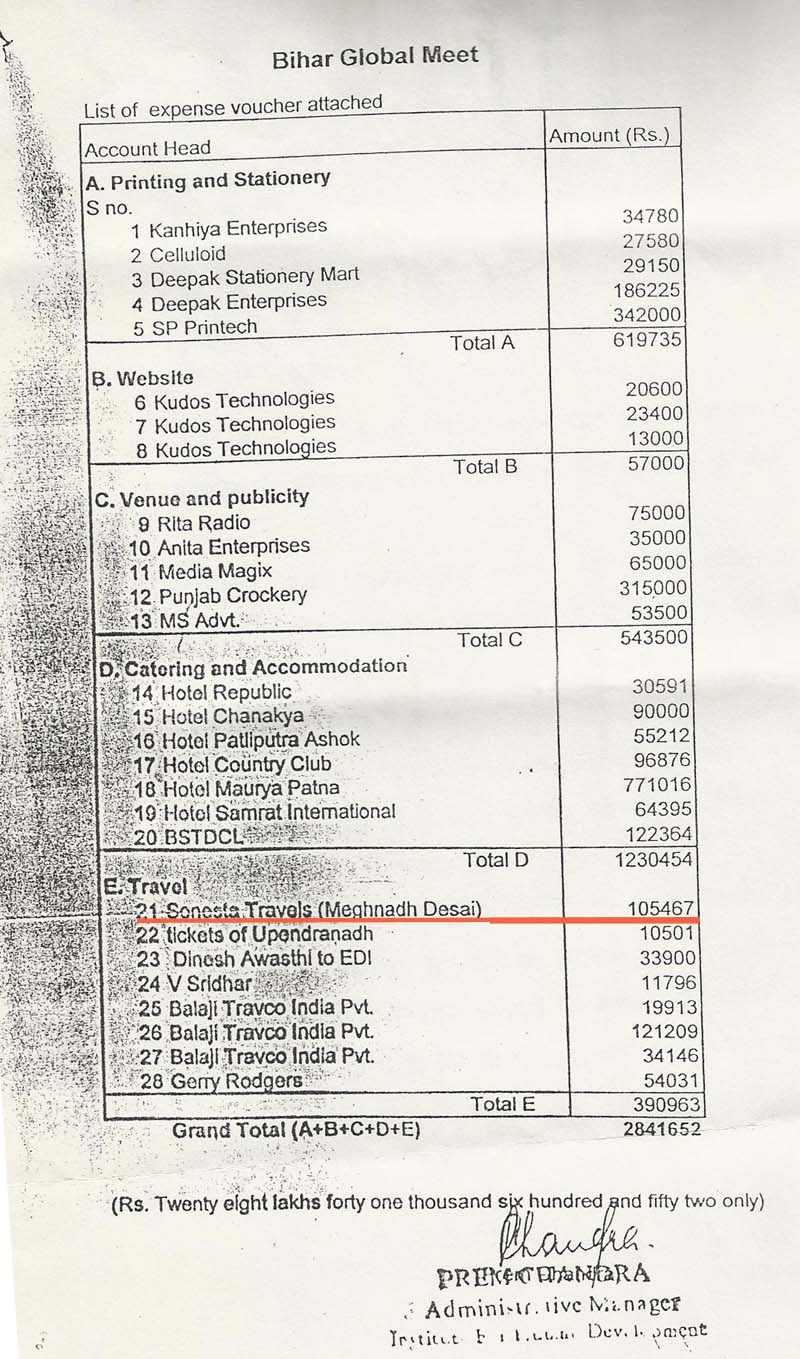 anyway he is again likely to grace the global bihar summit on feb 17-19 for which the state government has already sanctioned about rs three crore to the same organisers.

our chief minister wants to make a personal relation with lord meghnad desai for grabing any prize in uk.rs.1,05,457 was useless to expend on lord desai.may we know the contribution of lord for resurgent bihar..? we were paid participants in global meet -2007 being a bihari but a british citizen got the opportunity to participate the meet over the govt expese.
purander sawarnya
while we participated in the last global meet at our own cost to contribute to the renaissance of bihar under nitishjee, our leader who made us proud, the unscrupulous organiser not only defrauded public money but also took a large contingent of their friends on patna excursion at our cost.
howsoever small the fraud may be, should not be condoned and this corrupt institution should be punished. they also need to be removed from the organising committee of this forthcoming conference.
temu cashback
bangalore