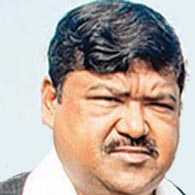 Patna,(BiharTimes): Five days after the mysterious killing of Dhiraj Mahto, BJP MLC Ashok Kumar Agrawal, was arrested on Sunday night.

Reports from Katihar said that a police team took him to the police station from his residence on Sunday night and formally arrested him.
He was produced in the court of the Chief Judicial Magistrate R N Tripathy on Monday morning. He remanded him to judicial custody for 14 days.
| | |
| --- | --- |
| | Dhiraj Mahto was killed on July 17 morning in the petrol pump owned by Ashok Agrawal. While Ashok Agrawal claimed that he was killed in an accidental fire when his body guard was cleaning his carbine the brother of the deceased, Niraj Mahto, a reporter in a Hindi daily, charged Agrawal of shooting his brother before his own eyes as he refused to work in the MLC's business establishment. |

An FIR had been lodged against Agarwal under Section 302 of IPC by Niraj.

Family members of Dhiraj alleged that the police have left no stone unturned to save Ashok Agrawal, who has a very close links with top politicians of Bihar. Agrawal is also an accused in the killing of four people in Bhajanpura village under Forbesganj sub-division of Araria district on June 3, 2011.

What is more puzzling is that two security guards of the MLC had separately claimed responsibility for the "accidental firing" which claimed the life of Dhiraj. But the relatives of Dhiraj alleged that the guards were being pressurized to accept that it was an accidental fire and are being made scapegoats.

It needs to be recalled that soon after the killing, Agarwal's security-man Brahmdeo Yadav claimed that the gun went off accidentally while he was cleaning it and a stray bullet hit Dhiraj. He was detained by the Katihar police and his firearm seized.

But Yadav suddenly "disappeared" from the scene. A day later another bodyguard of the MLC, Shashi Kant, claimed that it was actually his carbine which accidentally went off leading to Dhiraj's death.
Shashi Kant's version has confused the police.

Niraj, on the other hand,said he was an eyewitness to the killing. "When I went to drop my brother at Agarwal's house, there was heated exchange between the MLC and Dhiraj as the latter refused to go to Araria to supervise the road construction work being carried out by the legislator's firm.

"Eventually, the MLC snatched the weapon of his security guard and fired at Dhiraj," said Niraj.
Niraj had been claiming that since Agrawal was a ruling party legislator, the district police were reluctant to initiate any action against him. The MLC is already facing several charges of kidnapping, murder and extortion.