Patna, June 2 (IANS) Thousands Saturday joined the funeral procession of Ranvir Sena chief Brahmeshwar Singh 'Mukhiya', whose killing in Bihar a day earlier sparked widespread violence.
Singh, in his 70s, was killed Friday morning in Ara town in Bhojpur district, triggering violence by supporters of Ranvir Sena, an outlawed upper caste vigilante group.

The procession began from Ara, about 60 km from here.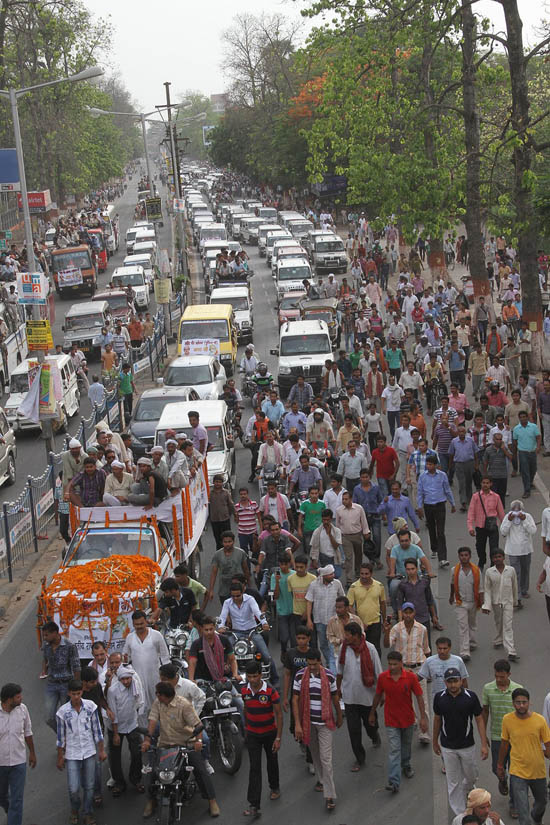 "Thousands more are waiting at different places to join his funeral," a police official monitoring the procession told IANS.

Hundreds of vehicles formed part of the three-kilometre long convey. The slain man will be cremated at Banshghat in Patna.

As they walked, Singh's supporters shouted slogans against the Bihar government and demanded death to the killers.

Another police officer said that his supporters were pouring into Patna from Gaya, Jehanabad, Aurangabad, Arwal, Bhojpur and Patna districts.

Elaborate security has been made in Patna to ensure peace, police said.

Deputy Inspector General Sunil Kumar said the Rapid Action Force, the Central Reserve Police Force and the Bihar Military Police Force have been deployed along the funeral route.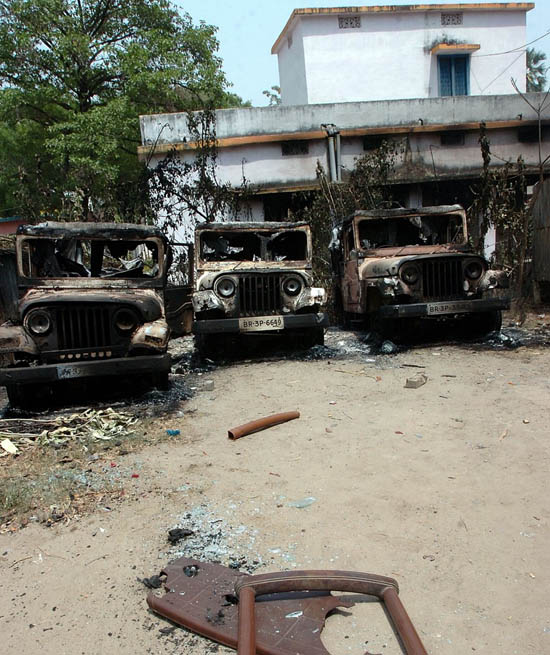 After Singh was killed Friday, his supporters attacked police vehicles and government offices in Ara.

The circuit house in the town was set on fire and nearly a dozen other vehicles, including a bus, were torched.


U are very concerned about the image of bihar only growth on paper cannot be judged as growth this government is crushing those person who have brought changes in bihar. Why government has not provided security to Mukhiaji if he has been provided security he had not been killed people are telling that he is th butcher then why he went for morning walk alone without any arms actually he was a great person with good leadership skill and his recent announcement to organize farmer for political awareness has created problem for many politician who has conspired his murder. I doubt that mr. Clean Nitish was also aware about this.
niranjan
---------------------------------
Mr Ashish,
Do you have the patience and time to read what media is saying with regard to mukhiya jee?
What led you to conclude that media is glorifying mukhiya jee?
Media has simply stated the fact that "thousands of people " participated in the last right of
Mukhiya jee, is this an act of glorification?
I am agree partly with the historical background advanced by you over this issue.
But how you are saying that He hatched a mass carnage. Are you a judge or jury? Do you have
Any evidence for that?
For a people like you it is very easy to write something like a story but unfortunately you don't know
Abc about the life of mukhiya jee. He could also have led a comfortable life like you but he sacrificed all
The comfort of life, easily attainable by him for the sake of society. And he is in fact a "TRUE HERO".
If he is not a hero , he is not a leader then there is no leader in india.
Sanjeet Kumar
Gaya, Bihar
-----------------------------------------------
It has been a great failure from the part of Bihari society (who rightly feels proud of their identity), to connect to the pain of upper class farmers (particularly a specific caste). They were used to be killed incessantly for 3 decades by the Reds just on the name of caste, and virtually nobody came to express solidarity with them.....not politicians, not intellectual class and not even media. Reds had converted their concept of class-war to caste-war. Sometimes it is felt as if this was like the mass-cleansing of Jews by the Nazis. In this hour of desperation, there came a man who did not believe in persuation, but instead wanted organized bloody fight. There will always be questions on the killing of innocents but he just wanted to spread terror in return of the terror. No group was clean in his actions. If Sena did not differentiate men and women in killing, Reds too publicly used to announce that `we do not kill women, because we want them to become prostitutes`. That was anyway about the Reds, but height was it when Chief Minister of the state refused to visit the villages where upper-class farmers were killed whereas she readily visited the villages where dalits were killed. Ranvir Sena Chief is now widely called as the crusader and saviour against the Reds, simply because his strategy worked. That means, Reds had to announce to stop their ways of mass-killing of the whole village. Society as a whole will have difficulty in accepting his acts, but a big part of the society will keep on eulogizing him.......particularly farmers/traders who have really been benefited by his war.
I sincerely pray to the God to not let the dark times haunt us again. Let the parties who want to take mileage after his killing, fail. It is a matter of old days and history always carry `if`s and `but`s. Let the Bihari-samaj prosper more and more and come-out of this testing time. I am sure, in few weeks things will be normal and we would again like to be called as Bihari first.
Abhay Kumar Abhay
---------------------------------
Ok Gentleman
I was wrong in calling Mukhiyaji a butcher. But then what is the correct way to address a person who was responsible for so many crimes against innocent humans. I do not see it Dalit or Forward way. Nobody gives you a license to vandalize, rape, murder in civilized world. I do not believe I live in that world. Government should stop mass vandalism and deal very firmly with hooligan behind it.
Anand Suman
----------------------------
Hardcore truth of Bihar resurfaced. Recent assassination of Brahmeshwar Mukhiya shown naked part of nefarious caste mentality of Biharies. Yes we lost a man who hatched mass carnage. For good reason or bad, that will be discussed later. But it seems we lost a hero who rendered extremely well to society. Even media limning that chap as a hero, a freedom fighter and a great leader.
Before we start any kind of discussion, we need to understand who are Naxalites and Ranvir sena and what are their motives. Naxalite movement was started by oppressed lower caste farmer and labour community who were facing ordeal right from the beginning of civilisation. Their farms have been looted because they were trying to survive. There women have been looted because they were trying to live with dignity. They have been tortured because they were trying to enjoy freedom in democracy. All these diabolic activities were done by upper caste people in the name of caste hegemony. All these activities by upper caste people were unorganised till there was some confrontation started in 1967 in the name of Maoist. Maoists were unorganised (supported by lower caste people) at start but they organised themselves and involved in various mass killings. That was setback for landlords and it was their time to think. That led to evolve various upper caste organisations; Ranvir Sena was one of them. Both Maoist and landlord group involved in mass killing without discriminating who are innocent, who are women and who are children. None ethical group can justify these murders by any logic. No one can justify any leader relevant to these organisations. The only difference is that one group was fighting to survive (because no option left to them and forced to opt wrong way) and other was fighting to obliterate other's existence.
How can media glorify MukhiyaJi for his so called act? This simply states the caste thinking among media person. Interestingly these mass murders are adorned as Dharm Yudh (Even by media person). I would have been saluted MukhiyaJi if he would have been involved in eradication of root of Naxalism by fighting for basic rights of Dalit, not by fighting Dalits.
So please stop Hypocrisy!
Ashish Kumar
---------------------------------------
Brahmeshwar Singh was a true patriotic and courageous person. Before calling him a butcher one needs to know the struggle of Mukhiya jee.
One should remeber how Lalu was ruling bihar and if government did not protect its citizen then either citizen should fly outside bihar like some of the intellectuals did. But Mukhiya jee decided to fight back and he did. He showed the path to others and will always remembered as a shahid.

Media is being managed by people who are working in A/c rooms of delhi and patna and will soon become irrelevant. Because people did not trust them.

Ranjeet Kumar
----------------------------------------------
Mr Anand,
I don't think you would be able to make a dog your follower. And surprisingly you are talking about a person after his death, who commanded so much Respect in the society that people are paying their homage after his death and you are talking Non-sense about him.
You don't know the principle that in order to control a power there must be an equally strong power.
Brahmeshwar jee just did the same thing nothing else.
Sanjeet
-----------------------
I would like to ask those who have termed Honourable Brahmeshwar Singh as Butcher of Bihar, that where do they disappear when Naxalites kill thousands of innocents in terrorism attacks on trains, and police forces. Mukhiya ji performed a hurculean task of containing Naxal forces and developed a model for controlling terrorism activities which should be implemented by Governments in other states as well. He did what todays Central and state governments are not able to do by responding in tit for tat manner to Naxalites. He should have been praised and given awards for his great deeds. Electronic media is not impartial. He commands and deserves great respect from one and all.
amit rai,
begusarai
....................................................................................
SAD. A BUTCHER GET ROWDY RECEPTION OF SYMPATHIZERS ON HIS FUNERAL MARCH. SHAMELESS POLITICIANS LOOK TO SCORE MILEAGE. NOT SUPPORTING THE SHOOTERS, BUT WHY SYMPATHY FOR THIS MAN. BIHAR SHOWING ITS CHARACTER AGAIN.
Anand Suman