| | |
| --- | --- |
| | Patna,(BiharTimes): What is this happening in Janata Dal (United)? Its national president, and NDA convenor, Sharad Yadav, is known for his anti-Congressism. He strongly reprimanded his own party general secretary, Shivanand Tiwary, when he, a few days back, publicly praised the economic policy followed by the outgoing Finance Minister, Pranab Mukherjee. |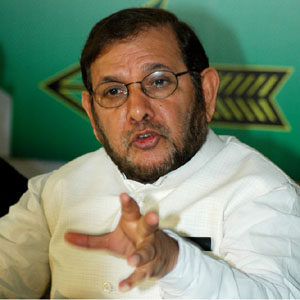 But then the same Sharad is among the proposers of Pranab's name as the UPA's presidential candidate. Interestingly, Sharad Yadav is the first signatory. There are 480 important signatures on his four sets of nomination papers.
But the same Sharad was absent on Thursday at the time of the nomination when leaders of all the parties supporting Pranab were present.
Sharad reportedly signed on the nomination paper after Union Ministers Rajiv Shukla and V Narayanasamy drove down to his official residence in New Delhi on Wednesday. The two Congress leaders had an hour-long discussion with him and is learnt to have requested him to be present when Pranab Mukherjee files his nomination on Thursday.
Another Janata Dal (United) MP Vashishtha Narayan Singh, who is also the Bihar party chief, has also signed on the same set of nomination paper. As is known the Janata Dal (United) decided to support Pranab Mukherjee's Presidential candidature.
But why this flip-flop by Sharad. Is he under some pressure?
What is wrong had he been present at the time of nomination when leaders like Mulayam Singh Yadav, Lalu Prasad etc were present on the occasion. True he is an NDA leader and by that logic he should not have been there.
But then his own party leader and chief minister of Bihar, Nitish Kumar, is a votary of consensus on Presidential election. In that way Sharad should have been present at the time of nomination.
Political observers, however, are of the view that Sharad is caught between his own anti-Congress commitment and the stand taken by Nitish. He has no base of his own, therefore, for the sake of Nitish he had to make a compromise. But then he is reminded of the fact that he is also a convenor of NDA. Therefore, he decided to abstain.
How long will he carry on like this is a million dollars question.