New Delhi, Nov 6 (IANS) These Indian and African entrepreneurs are young and dared to be different - to change the lives of those around them.

One of them developed a $2 clean birth kit that the potential of saving the lives of one million mothers who die annually in India during childbirth.
Another is empowering Nigerian youth to be informed citizens and effective future leaders by utilizing e-forums and innovative television programs that educate them about good governance and about their democratic rights.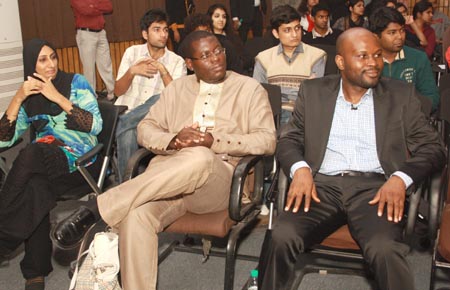 The third partners Africa's principal telecom operators, leading pharmaceutical industry associations on the continent and Fortune 500 technology powerhouses to enable African patients and consumers protect themselves from the fatal effects of pharmaceutical counterfeiting, which kills nearly a million people a year, and maims countless more, in vulnerable parts of the world.

"What can I say? I'm speechless," National Institute of Information Technology (NIIT) chief Rajendra Pawar remarked Monday evening after hearing their success stories - all because they had the conviction that tomorrow would indeed be a better day.

The entrepreneurs, India's Zubaida Bai and Nigerians Kingsley Bangwell and Bright Simons were speaking at the "Africa and India: The Spirit of Youth Entrepreneurship" session orgainised here by INDIAFRICA: A Shared Future in partnership with The Young India Fellowship and The Idea Works. INDIAFRICA: A Shared Future is funded by the public diplomacy division of the external affairs ministry.
"We're addressing a need at source, said Zubaida Bai, a masters in engineering and an MBA in social and sustainable enterprises, of her Janma clean birth kit to help hospitals and non-profit organizations prevent infection at time of birth and reduce maternal and infant mortality. The kit contains simple tools recommended by the WHO to provide sanitation and sterility at the time of childbirth. Janma has been chosen as one of the 61 products globally designed to improve life by INDEX Awards.

Having sold about 20,000 Janma kits - the bulk in India and in other developing countries in Africa & Latin America - Zubaida and her AYZH team have been bootstrapping success for over three years selling products to large market with minimal marketing efforts at a profit. After a gestation period of three years AYZH today is delivering results and has gained acceptance for its forward thinking by organizations like TED, Ashoka Changemakers, and Echoing Green.

AYZH aims to be the leading global provider of life-saving and life-changing health technologies for underprivileged women worldwide. Building off the success of Janma, AYZH will expand its product line to meet new needs of existing customers, with a host of other "kit style" products that support new born health, postpartum haemorrhage, and menstrual hygiene. Two products have been prototyped and under pilot testing while two products are under Research and Development.

AYZH has concrete plans in place for its current goal of reaching over 1000 clinics' and hospitals in India by 2013. Long term goals for AYZH apart from continuing to scale in India include growth of sales and scaling operations in Africa.

Bangwell floated his Young Stars International Foundation in 1994 in a barber's shop when he was just 22 because "I wanted to reach out to as many young people as possible".

Lacking formal education because there was no money to pay his fees, he went without funding for eight years to achieve his goal: "The role I must play to change and transform Nigeria."

His first funding - 500 pounds - came in 2003 and he has just landed a $280,000 project to promote democratic values.

"I'm aiming at $5 million before the end of the decade," said Bangwell, who once turned down substantial funding because it involved a 30 percent kickback.

"I've never taken a bribe and will never take a bribe," he asserted, adding: "The end doesn't justify the means."

"My wife often says 'Thank you for staying on your vision'," he said.

Speaking of his mPedigree Network, Simons said: "An important side effect of this effort is the steady recovery of the more than $200 million that legitimate pharmaceutical companies lose daily to the genocidal trade of counterfeit drugs."

Just how important this is can be gauged from the fact that 30 percent of the drugs sold in Africa are counterfeit.

Initiating the session, NIIT's Pawar said: "Real entrepreneurship is not working for wealth but working for fulfilling needs. It's the excitement of identifying unmet needs. The question is of making it sustainable. You have a great time doing so."

"Africa has a lot of unfulfilled needs and desires. It's a challenge for young people," he added.

The "INDIAFRICA: A Shared Future" was born out of the second India-Africa Summit at Addis Ababa in May 2011, said Riva Ganguly Das, joint secretary (Public Diplomacy) in the Indian external affairs ministry.

"Governments collaborate but we wanted to engage the youth to get them talking about each other. We are not looking at a three-year programme that ends with the next Summit in New Delhi in 2014," Das added