Patna, Nov 7 Dengue has already afflicted 1,150 people in Bihar this year, and it threatens to become an epidemic. Even so, the level of preparedness of the authorities is dismal -- only one of the four fogging machines in the state capital works.
Bihar Health Minister Ashwani Kumar Choubey, however, said Wednesday that there was no need to panic, and that the health department was taking measures to control the spread of dengue.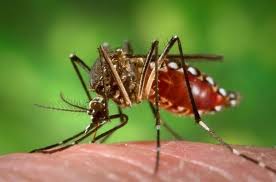 He said the state would buy new fogging machines, and acknowledged that three of the four machines in Patna do not work.

The one machine that works is in high demand in the VIP areas, and services the 29 municipal wards of Patna. An official of the Patna Municipal Corporation, requesting anonymity, said that Patna alone needs at least six such machines.

In Patna alone, as many as 313 cases of dengue have been confirmed by the health department. Bhagalpur district reported 232 cases.

"People suffering from dengue have been admitted to government and private hospitals," Rajendra Prasad Ojha, a health department official, said.

Till date this year, dengue has claimed two lives in Samastipur district. Unconfirmed reports, however, said that the toll due to dengue is much higher in various parts of the state.

Choubey did not indicate how many new machines would arrive, but said that they would be available next week. "The state health department will issue tenders for buying fogging machines," he said.

Reports suggest that there are no fogging machines in Bhagalpur, Gaya and Samastipur.

Health officials have said that dengue cases have also been reported in Sitamarhi, Purnia, Begusarai, Vaishali and Gaya districts.

Choubey said that starting Wednesday, a team of doctors was deployed at important railway stations in Patna, Gaya and Bhagalpur to check those entering the state from outside, to prevent the spread of dengue.

Ojha, the health department official, said that civil surgeons of Samastipur and Darbhanga have been asked to deploy a team of doctors to check all those, mainly migrant labourers, who arrive in the state from outside.

The state health minister also said that hospital authorities had been directed to provide treatment and medicines to those afflicted with dengue.

The government's efforts, however, have failed to allay the fears of people. More than two dozen fresh cases of dengue were reported Tuesday.

"You cannot help the fear, dengue is spreading and the government is still to start fogging and clearing garbage and filth around Patna," Saken Singh, a Patna businessman, said.

Abid Ali, a school teacher in the state capital, also said that the government seemed completely rudderless in its attempts to prevent the spread of dengue.

A fortnight ago, the health department had issued an alert to prevent the spread of dengue.