| | |
| --- | --- |
| | Nitish Kumar is not only the chief minister of Bihar. There is another Bihari in him. He is originally from Nalanda district, whose headquarters is Biharsharif. He had even represented Nalanda a number of times in Parliament. Thus he can claim that he is Bihar's Bihari. |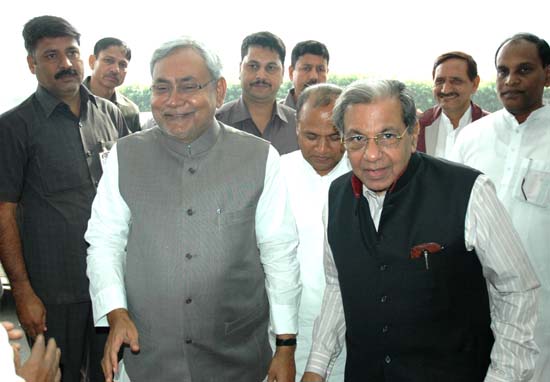 So on Friday when he flew to Karachi via Dubai he would be another Bihari to be in the city of millions of others from this state. He would certainly get an opportunity to see a large number of them who had roots deep in this state, especially in his district, from where thousands––if not laksh––migrated.

Among other engagements he would be visiting the tomb of the founder of Pakistan, Mohammad Ali Jinnah, where foreign dignitaries are taken––as Rajghat in India. And it is here that the BJP patriarch Lal Krishna Advani, during his visit in June 2005 perhaps got carried away by emotion––as he was in his hometown––and spoke something which created storm in Sangh Parivar back home in India. He called Jinnah a secular person and did not entirely hold him responsible for the partition of the sub-continent.

Then again BJP stalwart, Jaswant Singh, in 2009 kicked off another storm, when in his book on Jinnah, he did not hold him alone responsible for the partition of the Indian sub-continent, but put much of the blame on the first Indian Prime Minister Jawaharlal Nehru too. He was expelled from the party only to be taken back in 2011, and that too once again at the initiative of Advani.

Aware of all these happenings, Nitish would certainly be guarded in his comments on Jinnah, especially in his birthplace. During his seven-day long stay––some critics say it is too long for any foreign dignitary––Nitish, as reported would be visiting several places of historic importance in Sindh as well as Punjab.

He would be the first chief minister from Bihar to be in that country, though a section of media is wrongly equating his visit to that of Lalu Yadav. The RJD leader––and Ram Vilas Paswan too––was a part of the multi-party delegation of MPs sent to Pakistan by the then Vajpayee government. It was entirely different mission and it did not go to Karachi, where most of the Biharis live.

So while Nitish, among other things, is going to market his own 'achievements'––though he talked about Dilon ko jodne (bring the hearts of the people of two countries together)––Lalu's visit had an entirely different national––and not Bihari––perspective. It is other thing that Lalu was also projected as a Bihari there.

The 'achievements' and 'qualities' of foreign dignitaries are often highlighted by the hosts, so one need not be too much carried away by that. Actually there is no scope for Pakistan to imitate the so-called success in the growth rate of Bihar. The scene is entirely different there, though culturally there may be some resemblance between India and Pakistan or say Karachi and Bihar.

Nitish in Pakistan, and that too for so long, would certainly help that country market its own 'achievement'. As the country is in turmoil, and somewhat facing isolation, diplomatically what better it would be for its leaders than to project that look one of the chief ministers of neighbouring India, with which it has never so good relationship, is in our country. So the beleaguered Pakistani establishment would at least try to cash in on his visit.

Incidentally, Nitish would be landing in Pakistan just five days after his party organized Adhikar (Right) Rally in Patna on Nov 4 to seek special status category for Bihar. Since then he had spoken nothing on the issue. However, he had these days repeatedly been talking that Bihar has always been ignored and neglected by the Centre. Similarly, Biharis in Karachi, too had a subjective feeling that they have been exploited and ignored by the Islamabad-centric establishment.

As Nitish left Delhi for Karachi on Nov 9, the CPI ML too held a massive Parivartan (Change) Rally in Patna, where its general secretary, Dipankar Bhattacharya said something totally different. He held the Bihar government responsible for its failure on all the fronts and said that Nitish is just using the special status category for his own poltical survival and that he had always opposed it when he was Union minister.

Anyway Nov 9 rally too was a big one and to much extent neutralized the claim of Adhikar Rally, which certainly has much more resources at its disposal.