| | |
| --- | --- |
| | Patna, Nov 22 (IANS) Two days after Chhath festival concluded, most of Bihar's railway stations are witnessing a heavy rush of passengers, mostly migrant workers returning to their work places outside the state, a railway official said Thursday. |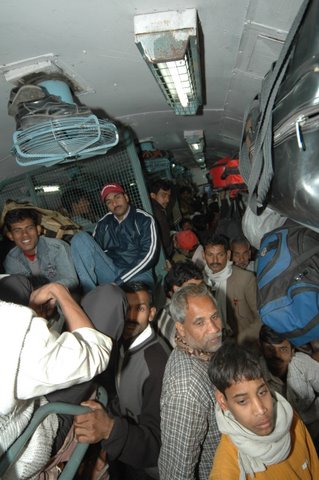 "There is a heavy rush in all trains, especially long distance routes, from Bihar," East Central Railway's (ECR) chief public relations officer (CPRO) Amitabh Prabhakar told IANS by telephone.

It is estimated that over 50 lakh migrant labourers are working in big cities across the country and most of them visit home during Chhath, the most celebrated festival in Bihar.

Crowded platforms, long queues at railway ticket counters and heavily loaded trains are common sight these days.

"I was informed by a railway employee that all trains are packed to full capacity," said Suman Kumar Singh, who was waiting at the Patna railway station.

Suman Singh, who works in a factory near Pune in Maharashtra, visited his home-village near Rosera in Samastipur district to celebrate Chhath. "I have no option but to catch any train," he said.

Another passenger, Rohit Ranjan said that hundreds of people like him have been waiting for the long hours, but all coaches of long-distance trains are packed and there is no place despite holding a reservation ticket.

"It seems that there is no place at all in long-distance trains as migrant workers have started returning to work following Chhath," Ranjan, who works near Bangalore in Karnataka, said.

According to a railway official of Danapur railway division, the railways are running some special trains to clear the rush of passengers.

"We are also attaching extra coaches for passengers to long-distance trains," he said.

According to railway officials, it is not possible to get berth reservations for Delhi, Mumbai, Pune, Kolkatta, Bangalore and Chennai-bound trains till Nov 30.

In some trains to Delhi, there is no seat availability till Dec 15.

"As far as Tatkal ticket is concerned, there is a long waiting list even in New Delhi-bound Rajdhani Express," the official said.

The Sun, considered the god of energy and life-force, is worshipped during Chhath for well-being, prosperity and progress.

The four-day long Chhath festival began Saturday when devotees took a dip in the rivers, a tradition known as 'nahai khai'. It was followed by the ritual of 'kharna' Sunday when sweet dishes were prepared. The festival ended Tuesday.

Once limited to Bihar, Chhath is now fast becoming popular across India due to the large-scale migration of workers from the state.