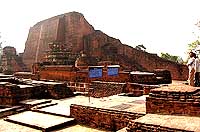 The Nalanda University Act, 2010 came into force w.e.f November 25, 2010. The original Nalanda Mentor Group, upgraded into the temporary Governing Board, was mandated to hold office maximum for a year until November 24, 2011. But it should have ideally have handed power over to a regular Governing Board, constituted as per Clause 7 of the Act, before that date. But the MEA appears to have done precious little to constitute a regular governing board even as two years have lapsed. A regular governing board should include an officer from the MEA not below the rank of Secretary; two members representing Government of Bihar; one member not below the rank of Additional Secretary from the Ministry of Human Resource Development; three educationists or academicians to be nominated by the central government.
Last year as the term of the Governing Board was about to come to an end, the MEA did a rope trick. It used an inconspicuous provision of the Nalanda University Act, 2010 viz. Clause 41 (1) 'The Power to Remove Difficulties' to extend the term to another year. Its propriety, however, was open to question because the Governing Board had a term of maximum of one year as per Clause 8 (2) of the Act. It tantamount to amending the Act, bypassing the legislature viz. the Parliament.
A repetition of the same, however, will be construed as mala fide. But there is no time left for Plan-B i.e. amending the Nalanda University Act, 2010 that the Planning Commission had put forward in April (to alter the composition of the Governing Board itself). A beleaguered UPA government is less likely to act on it in the Winter Session. The Prime Minister made only a tepid reference to the Nalanda University in his speech at East Asia Summit at Phnom Penh.
Despite its architectural design competition, scaled down from global to local, Nalanda University appears on its last legs.
Related story:
http://www.bihartimes.in/Newsbihar/2011/Nov/newsbihar27Nov4.html