| | |
| --- | --- |
| | New Delhi, Oct 28 (IANS) Salman Khurshid was India's new external affairs minister as Prime Minister Manmohan Singh Sunday effected a major revamp of his council of ministers, inducting 22 faces, including seven of cabinet rank, in what is said to be the last major ministerial shuffle before the 2014 general elections. |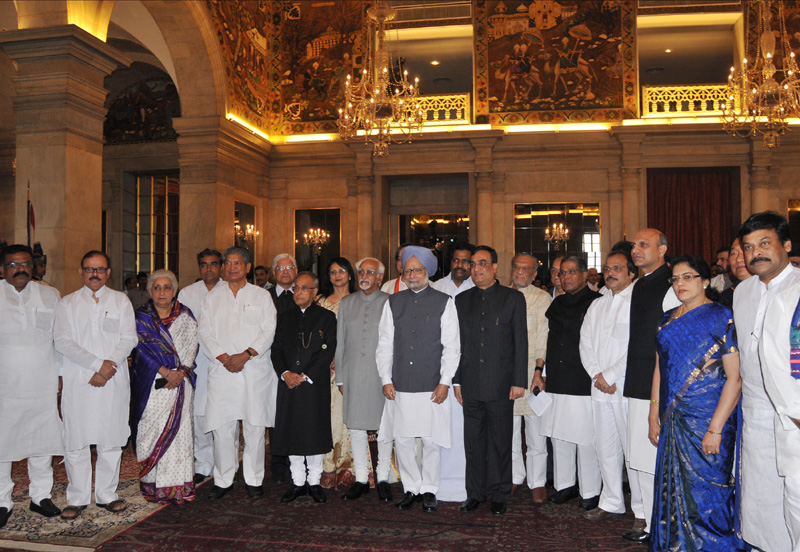 Congress general secretary Rahul Gandhi did not join the government - leaving the field open for him to play a larger role in the party.

Several portfolios were changed, some new faces introduced, some elevated to cabinet rank and at least one old hand - Shashi Tharoor - was back in what is possibly UPA II's last facelift - an exercise that jettisoned tainted ministers like Subodh Kant Sahay and roped veterans like Ambika Soni and S.M. Krishna back into the party organisation to gear up for the 2014 electoral battle.

"It is a combination of youth and experience," Manmohan Singh told reporters after the swearing ceremony at the Rashtrapati Bhavan where President Pranab Mukherjee administered the oath of office.

"The road ahead is full of challenges," he said on his priorities in the next few months.

Of the seven new ministers sworn in with cabinet rank, two are debutants -- former deputy chairperson of the Rajya Sabha K. Rehman Khan and Congress MP Chandresh Kumari Katoch. The other five, Ajay Maken, M.M. Pallam Raju, Dinsha Patel, Harish Rawat and Ashwini Kumar, have been elevated to the cabinet from ministers of state rank.

In the reshuffle of the pack of ministers, Khurshid got external affairs while his previous ministry, law, went to Ashwani Kumar. Khurshid had served as minister of state (junior foreign minister) under prime minister P V Narasimha Rao in the nineties.

Pallam Raju was made human resource development (HRD) minister in place of Kapil Sibal, who was left only with communication and IT. Pallam Raju's minister of state in HRD was Tharoor, who quit had to resign as minister of state for external affairs in 2010 over a controversy regarding his alleged conflict of interests in the affairs of IPL Kochi cricket team that was subsequently disbanded.

The crucial railways ministry, which had long been with one-time ally Trinamool Congress, was given to P.K. Bansal.

M. Veerappa Moily was given charge of petroleum, while his previous responsibilities of corporate affairs and power were split - Sachin Pilot was elevated as minister of state with independent charge of corporate affairs and Jyotiraditya Scindia got independent charge of power.

These two ministers were known to be close to Rahul Gandhi.

Rawat was made water resources minister and Katoch, who belongs to an erstwhile royal family in Rajasthan, is union culture minister. Maken was elevated as housing and poverty alleviation minister and Dinsha Patel as mines minister.

S. Jaipal Reddy got science and technology and Kamal Nath got additional charge of parliamentary affairs besides urban development.

Amongst the ministers of state sworn in were Congress spokesperson Manish Tewari who got independent charge of information and broadcasting. Earlier with Soni, the ministry has been downgraded.

Telugu actor Chiranjeevi, whose Praja Rajyam Party (PRP) merged with the Congress, got independent charge of the tourism ministry. Tourism is one of the country's major foreign exchange earners.

The careful rejig saw special attention being paid to Andhra Pradesh, a crucial state electorally for the Congress where Y.S. Jaganmohan Reddy has been gaining in influence and where the issue of separate statehood for Telangana has split ranks. It got the maximum representation of six with five new faces and one elevated to the cabinet rank.

Besides Pallam Raju, there was Chiranjeevi, Kotla Jaya Surya Prakash Reddy, Sarve Satyanarayana, Porika Balram Naik and Killi Kruparani.

There were also three new faces from West Bengal - Adhir R. Chowdhury, Deepa Dasmunsi and A.H. Khan Chowdhury, all known to be fiercely opposed to state chief minister Mamata Banerjee, whose Trinamool Congress broke ranks with the ruling coalition recently to bring about several ministerial vacancies.

The Confederation of Indian Industry (CII), the apex industry chamber, welcomed the reshuffle and said it has "ensured that there is a fair mix of youth and experience in the cabinet.
"India?s young demographics is starting to get reflected in the political leadership of the country, which is only natural," it said.