| | |
| --- | --- |
| | Patna,(BiharTimes): A case of extortion has been lodged against the former Janata Dal (United) MLA, Munna Shukla, in Hajipur. Shukla is the husband of the Janata Dal (United) MLA from Lalganj, Annu Shukla. At present he is in Muzaffarpur jail as he has been convicted in the former minister Braj Bihari Prasad murder case. |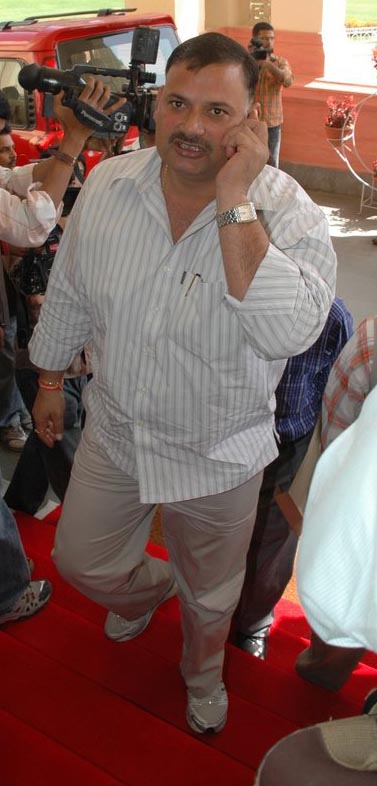 According to Sant Lal Yadav, the director of the Patna Sahib Group of Colleges, Vaishali, on October 26 Munna Shukla rang him up several times to state that he had been asked to raise Rs seven crore for Adhikar Rally and it is men like him (Sant Lal) who can help collect the amount. The former MLA, according to the director, demanded Rs two crore from him.

However, Annu Shukla refuted the allegation and said that this was not the age of extortion and kidnapping. She alleged that the director had not paid the amount to the farmers from whom he took land plots for college. She sees a great conspiracy in the whole episode.

Janata Dal (United) spokesman, Neeraj Kumar, washed his hands of by saying that Munna Shukla has nothing to do with the party and is now in jail. However, he assured action against anyone who indulged in any illegal action.

Countering his view RJD general secretary, Ram Kripal Yadav, said after all Munna Shukla's wife is a Janata Dal (United) MLA. He said Rs 400 crore is being spent on the Adhikar Rally and all the officials are busy in collecting the amount to make it successful.

RJD supremo Lalu Yadav also made similar allegations and directly blamed chief minister Nitish Kumar responsible for the extortion racket going on all over the state in the name of Adhikar Rally. He is just an example. All the DMs, SPs etc are engaged in this work. He even took the name of controversial JD(U) MLA, Anant Singh.

Meanwhile, raid was carried out in Muzaffarpur jail. However, only a mobile phone without any SIM was found. No further follow up action has been taken.