| | |
| --- | --- |
| | Patna,(BiharTimes): A day after Nitish Kumar justified his move to pull up Rural Works Department minister, Bhim Singh, for proposing that BJP should accept him as the prime ministerial candidate for the 2014 Lok Sabha election, Bihar's Deputy Chief Minister Sushil Kumar Modi said that he is "surely prime minister material and will play an important role in the 2014 elections." |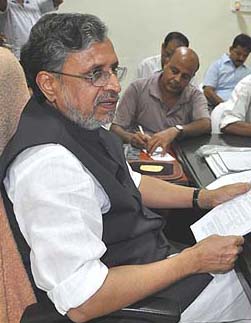 In an interview published in The Indian Express, on Monday he said "Nitish Kumar is surely PM material. As CM of an important state and valued ally of the BJP, he will definitely play a very important role in the 2014 elections. But he has said the larger party in an alliance alone can have PM nominee to ensure a stable government."

Modi also said that there was no question of Nitish joining the UPA. A crucial mediator between BJP and JD(U) in the state, the Deputy CM said the BJP knew Nitish was staunchly anti-Congress. "Our alliance is rock solid. There is no chance of him boarding the Congress's sinking boat," he told the daily.

The speculation that the UPA was wooing Nitish had been triggered by the decision to grant the state two central universities and clearing of Rs 2,500 crore payment under the Pradhan Mantri Gram Sadak Yojana (PMGSY). Modi said the row over the site of the central university was a sign of the Congress's "divisive politics". Playing down the PMGSY grant, he said the money actually was cumulative dues of three years.

He also denied that the Naroda Patiya verdict would affect the party's electoral prospect as well as the probable projection of Gujarat CM Narendra Modi as PM candidate. "The verdict will not hurt us because the Congress is burdened with corruption," he said. "As the next election will be fought over corruption, it will not succeed in making it a Rahul Gandhi versus Narendra Modi debate. In any case, the NDA has not announced its PM candidate."

Political observers are of the view that Modi's Monday interview to this national daily can not be seen in isolation. Though he is a powerful leader of the BJP his proximity to Nitish Kumar can not be denied. Incidentally, his statement came two days after Bhim Singh's similar comment. But he was immediately asked by Nitish to apologize.

Another moot question is: If Sushil Modi is pitching for Nitish, is he opposed to any move of the BJP to project Narendra Modi as the prime ministerial candidate.
comments powered by