| | |
| --- | --- |
| | Patna,(BiharTimes): Even as a large part of Patna remained waterlogged for the fourth day on Wednesday––though there is hardly any rain in the last three days––a division bench of Justice T Meena Kumari and Justice Chakradhari Sharan Singh of the Patna high court on Tuesday ordered the Patna Municipal Corporation to immediately form mobile units for every locality of the city to tackle waterlogging, apart from removing filth and garbage. |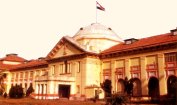 The court also directed the PMC to widely circulate or publish mobile numbers of authorised officers and take action against every complaint within 24 hours.

The court was hearing a petition filed by Sunil Kumar and others. It also summoned the Municipal Commissioner.

The court decision to monitor the case notwithstanding several colonies and localities of the city continued to look like lakes even on Wednesday.

Even posh localities like Patliputra Colony, Industrial Area, Kurji, Rajendra Nagar, Kankarbagh, Chandmari Road, Nala Road, Sri Krishnapuri, downtown area of Ashok Rajpath, Khaitan Market, Bari Path etc are still waterlogged.

The condition may further worsen if it starts raining again. IIT, Patna, the Software Technology Park and the adjacent New Polytechnic campus in Patliputra Colony are still under knee-deep water.

Similar scenes can be seen in premier hospitals like PMCH and NMCH.

School children are finding it difficult to reach their destination so early in morning while patients are facing immense hardship in reaching hospitals and clinics. There is fear of epidemic spreading in Patna if no arrangement is being made to pump out water.

Accumulated water can still be found on the campuses of schools located near Kurji, Patliputra Colony, Kankarbagh and Rajendra Nagar. Water can be seen in front of UNICEF office too.

The accumulated water has caused widespread destruction of property too as it entered in to thousands of houses.

A resident of Nehru Nagar told BiharTimes: "As Patna has hardly any drainage system and garbage are not lifted for days together, even from premier colonies, people are condemned to live in such a hellish condition for some more days to come. To cap it all the level of roads have been raised by about 18 to 20 inches."

The fact is that it did not rain too much in Patna as it is being made out. About 89 mm of rain on Sunday is not ununsally high. What would have happened had it rained more than that? He asked.