Patna,(BiharTimes): Chief Minister Nitish Kumar said on Friday that since there is not much competition in Bihar anyone who comes here and invest can beome the leader. There is virtually an open field and whosoever comes first would reap immense benefits.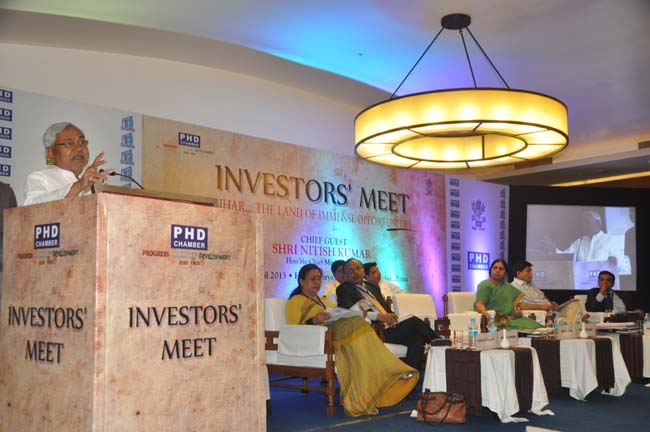 Claiming that the law and order situation has improved in Bihar, he guaranteed security to those interested in setting up industrial units in the state.
Addressing Investors' meet he reiterated there was huge potential in agriculture and food processing and tourism sectors for investment.
The chief minister said that the state government has framed policies for the promotion of all industrial sectors and set up the State Investment Promotion Board (SIPB) and Single Window Clearance System to expedite clearance of investment proposals.
He once again stated that he himself holds an investors panchayat at his official residence on every fifth Monday to hear problems of the investors.
Referring to land scarcity, the chief minister said the government has started work to ensure land availability under the framework of the private industrial estate and would be given shape soon.
He said as the government was not inclined to play a direct role in acquiring land for prospective investors a policy for the creation of private industrial areas was on the anvil. The state government would also hand over the responsibility for resolving problems of investors to the State Investment Promotion Board.
He urged investors to go in for direct talks with farmers to avoid difficulties in sealing land deals.
He conceded that land acquisition was a problem in Bihar as the population density was high and most of the farm land fertile.
He said at the same time, Bihar has other required materials for industrial activities like availability of market, labour, water and road infrastructure.
Urging investors to come Industries Minister Renu Kushwaha said there is no shortage of anything in Bihar. Even states having special category status have some problems, especially related to land.
However, only 31 investors with specialization in food processing, refinery, health, education, aviation, energy, cement, hospitality and IT services are taking part in the meet here.