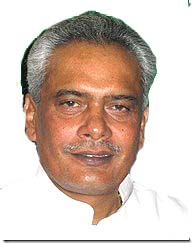 Patna,(BiharTimes): Former Maharajganj MP Prabhunath Singh on Wednesday met incarcerated ex-RJD Member of Parliament, Mohammad Shahabuddin, in Siwan jail.
The talks lasted for over 90 minutes.
However, Singh refused to elaborate as to what actually transpired and just said that it was not the first meeting of its kind. In fact he had met him once in the past too.
He added that the countdown of JD(U) has began in Bihar and it would surely lose the by-election.
The talks reportedly revolved around the by-election for Maharajganj seat from where Singh is likely to contest. As the Janata Dal (United) candidate he lost to RJD's Umashankar Singh in 2009 Lok Sabha election. However, he joined RJD on August 7, 2010, that is on the eve of Assembly election of October-November the same year.
The meeting is significant as it is felt that Shahabuddin still commands some influence in two of the Assembly constituencies––Goriakothi and Maharajganj.
The Janata Dal (United) is likely to put up Education Minister, Prashant Kumar Shahi. However, Mahachandra Prasad Singh, MLC, has also expressed his willingness to contest from here. He joined the party after switching over from Congress a few months back.
The seat got vacated following the death of Umashankar Singh.