| | |
| --- | --- |
| | Patna,(BiharTimes): Deputy chief minister-cum-finance minister, Sushil Kumar Modi, said the state government would no longer appoint contractual doctors and was looking into the scope of regularizing the services of existing contractual doctors. |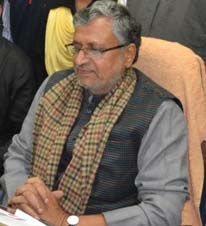 The contractual doctors were recruited a few years back following the launching of centrally-sponsored National Rural Health Mission by UPA-I. The Centre pumped thousands of crores into the health sector in the last few years in Bihar yet the state is witnessing 50 per cent shortage of doctors as well as para-medical employees.
These and many other facts came at the pre-budget review meeting Sushil Modi held with the representatives of health professionals on Thursday.
The representatives of over 20 non-government organizations and government health facilities forcefully demanded that the state government spend 10 per cent of state GDP on health services instead of the current 1.2 per cent.
They said since health is a state subject, the Bihar government would have to beef up infrastructure and human resources to provide a robust health care structure. The private sector can be allowed to supplement government facilities, but a standard operating procedure must be put in place to prevent them from freely minting money.
Health activists, who attend the consultation, also expressed concern over the high total fertility rate and under-5 mortality rate.
The representatives of various NGOs working in rural areas rued the fact that on the one hand primary health centres faced shortage of ANMs, while on the other, many of them were not equipped even to measure blood pressure.
comments powered by