| | |
| --- | --- |
| | Patna,(BiharTimes): Bihar is among the state with one of the highest police-citizens ratio. There is one policeman for every 1,456 citizens. Only West Bengal with one policeman for 1,658 citizens is ahead of it. The country's police personnel to population ratio is 1:761. |
Uttar Pradesh has one cop for 1,173 citizens while figures for Dadra & Nagar Haveli and Madhya Pradesh stand at 1,046 and 962 respectively.
According to the latest figures (till Jan 1, 2012), released by the Bureau of Police Research and Development (BPR&D) of the ministry of home affairs 14,842 VIPs enjoy state protection and are drawing more than what they are entitled to by way of police escorts. With 3,030 Bihar tops the list.
"Out of total 55000 policemen in the state about 10,000 are deployed on VIP security in the state. We can say that 20 percent force is protecting VIPs. Surprisingly the list of VIPs that includes ministers, judges, MLAs, MLCs and other VIPs may not cross the figure of 1500 but who are the other VIPs? They include political workers, contractors and businessmen mostly close to the power may be" said a senior police officer.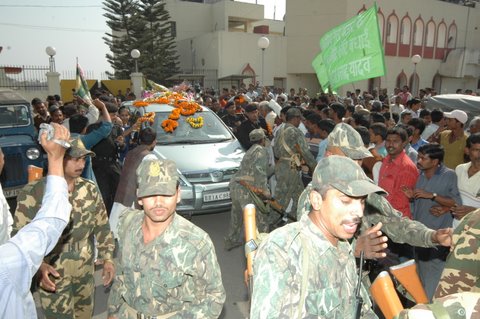 The BPR&D said that 47,557 policemen are protecting 14,842 VIPs across the country. This means on an average three police personnel are protecting one VIP.
Excessive deployment of police persons to secure VIPs is not just a Delhi phenomena as was repatedly highlighted in the media after the gang-rape and murder of 23-year old girl. Rather it has been more rampant in states like Punjab, Assam, Bihar etc where unlike Delhi the number of VIPs are much less. Besides, Delhi has the problem of protecting the visiting VIPs of different states and even abroad.
Bihar has a unique distinction. In 2011, as many as 3,030 people were given police security, which is more than 20 per cent of the total national figure. This was followed by Punjab 1,798 and West Bengal 1,698. Getting security guard is considered as a status symbol.
Though the Union home ministry had in the last two years pruned the central list of VIP to be provided protection by constantly reviewing the real threat perception, states do not seem to respond accordingly despite facing a huge shortage of police personnel.
After the killing of BJP MLA, Raj Kishore Kesari, at the hands of lady school principal, Rupam Pathak, in Purnea on Jan 4, 2011 the Bihar government raised the security personnel for the ministers, MLAs and MLCs.