| | |
| --- | --- |
| | Patna,(BiharTimes): The showdown between social activist-turned-social welfare minister Parveen Amanullah and Janata Dal (United) MLA Anant Singh over the issue of alleged encroachment of park in posh Patliputra Colony took a new turn on Saturday after the acting president and two other members of the 11-member board of directors of Patliputra Housing Cooperative Society resigned from their respective posts. |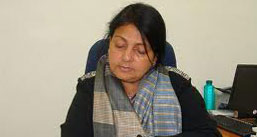 Reports say that they are not finding enough courage to take on the controversial legislator, who is considered too close to powers that be.
Society's secretary Anand Kishore Sinha, who did not accompany Parween to the spot on Friday morning, told media on Saturday that the Society's acting president P K Verma and two other directors Major M K Mukherjee and Kumkum Narayan have resigned from their respective posts.
They have not given any reason behind their sudden resignation yet it is said that it has something to do with the latest row. The minister wrote a letter to the Society, asking it to take action against the persons who have allegedly encroached the Society's land in front of the newly-built hotel, Buddha Heritage, which belonged to Anant Singh.
The secretary said he had called a meeting of the board of directors on Saturday to discuss the issues raised by Parween in her letter. But the meeting could not be held for want of quorum.
According to him as per the Society rules, a minimum six members of the 11-member board of directors should be present to fulill the quorum for holding a meeting. Of them two had passed away in the last couple of years. Of the remaining nine members, two members––Rita Tewari and Dr Rupam––were out of the city. With three fresh resignations, the number of existing members has come down to four. The four members don't complete quorum to hold a meeting, let alone take any decision.
Parween Amanullah, on the other hand, said since the members of Society's board had resigned apparently with a motive not to take any decision against the encroachers, she would now file a petition in the office of Registrar, Cooperative Societies, on Monday, seeking dissolution of the Society and appointment of an administrator to look after the day-to-day affairs.
Meanwhile, Society president P K Verma told the media that he had resigned on Feb 7 because of the high-handed attitude of the secretary.
What is strange is that several former chief secretaries, several retired judgs, other senior bureaucrats and politicians live in the Colony yet nobody raised the issue when the construction had been going on for the last several years. Several people smell some political move in it.