| | |
| --- | --- |
| | Patna,(BiharTimes): The chairperson of People For Animals (PFA), Maneka Gandhi, (MP) will present an award to Araria SP Shivdeep Lande on behalf of her organization for saving the lives of 49 camels, which he intercepted while they were being smuggled into Bangladesh via Araria on Jan 22. |
She will also recommend Lande's name to the Union forest and environment ministry for a national award in this regard as he showed extraordinary interest in nabbing the camel smugglers and also for preserving lives of the captured camels all these days at Forbesganj.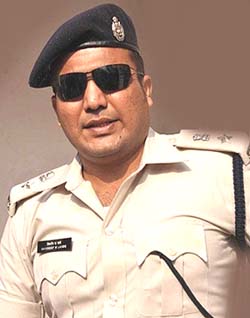 Maneka Gandhi said the number of camel population in India is estimated to be about four lakh. However, it is declining at the alarming rate of 10 per cent every year. The camels are the economic health of Rajasthan and Gujarat. They need to be saved for the maintaining ecological balance, she said.
According to Maneka camels are being smuggled from different parts of the country. Over 200 camels, which were being smuggled to Bangladesh, were recovered and seized from the animal smugglers in Hissar district in Haryana. These camels were kept at Sadri Jain cow shelter of well known animal saver Nitin Jain of Rajasthan.
Prior to this, 140 camels were recovered and seized by the Katihar district administration but Maneka said, it is still a mystery as to how all these camels were released. When Araria SP can protect the lives of the seized camels why not the Katihar SP?, she asked.
She lauded the efforts of Lande for protecting the lives of camels and sending the smugglers to jail.
She quoted Kerala high court ruling which said that the killing of camel is illegal but added that despite this a large number of camels are being killed in India.