New Delhi, Feb 17 (IANS) BJP leader Arun Jaitley Sunday asked Press Council chairman Markandey Katju to quit, saying a person holding the post must be impartial, and drew a strong reaction from the former apex court judge who charged with him with distorting facts.

Justice Katju retorted that Jaitley was talking "nonsense and rubbish" and stooping to personal attacks.
The Bharatiya Janata Party (BJP) leader made his demand after accusing Katju of attacking non-Congress governments in Bihar, Gujarat and West Bengal on the basis of "his political preferences".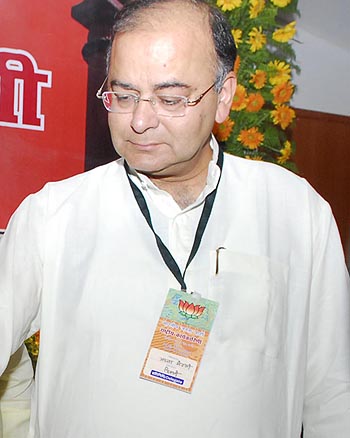 In an article on the BJP website, Jaitley said Katju's attacks "seem more in the nature of thanks-giving to those who provided him with a post-retirement job".

The leader of opposition in the Rajya Sabha said Katju had over the past week released a draft report on behalf of the Press Council of India (PCI) alleging that the media in Bihar was not independent.

He followed it up with an article in an English daily attacking the Gujarat government and Chief Minister Narendra Modi.

"Though initially known for his scholarship, Justice Katju was never a conventional judge. His utterances, both during his tenure as a judge and thereafter, are clearly outlandish," Jaitley said.

"Dignified comment is alien to him."

Jaitley contended that judges of the Supreme Court and high courts must not be eligible for jobs in the government after retirement.

"In some cases the pre-retirement judicial conduct of a judge is influenced by the desire to get a post-retirement assignment," he said.

"The chairman of the Press Council discharges a statutory job. His job requires fairness, impartiality and political neutrality."

"Additionally, a judge, whether sitting or retired, is expected to conduct himself with sobriety, dignity and grace. He cannot be loud, crude, outlandish or behave like a megalomaniac," Jaitley said.

He said a judge should refrain from involvement in political controversies. If he desires to get into political activity or a political debate, he should cease to hold his judicial or quasi-judicial office.

Modi also tweeted in support of Jaitley's article, claiming that Justice Katju looked at Gujarat with a "jaundiced eye".

"Justice Katju looks at Guj with a jaundiced eye. Jaitley ji's insightful article demolishing lies spread about Guj," he posted.

Reacting to Jaitley's article, Katju told a TV channel that the BJP leader was talking "rubbish and nonsense".

He said the BJP leader was "not cut out for politics" and alleged that he had "distorted" facts.

"He (Jaitley) should resign from politics," Katju said.

Accusing Jaitley of stooping to a low level and "launching a personal attack", Katju said he would not do the same.

Countering Jaitley's argument of targeting non-Congress chief ministers, Katju said he had written a letter to Maharashtra Chief Minister Prithviraj Chavan in November last year strongly condemning the arrest of two girls from Palghar town in the state for criticizing on Facebook the state bandh following Shiv Sena supremo Bal Thackeray's death.

He said he had also written to Congress leader Virbhadra Singh, now chief minister of Himachal Pradesh, over his remarks to a cameraman during campaign in the state assembly polls.