Patna,(BiharTimes): The National E-Governance Award 2012-13 in category "Innovative use of Technology in E-Governance" was given to Bihar by Ministry of Personnel and Administrative Reforms and Ministry of Electronics and Information Technology.
"I-BHuGoal" is a state government flagship programme which is a joint Initiative of Information Technology Department, Government of Bihar and National Informatics Centre, Bihar.
Arun Kumar Singh, IAS and Principal Secretary, Information Technology, Government of Bihar and Dr B Rajender, IAS and Secretary, Rural Works Department while conceptualizing the project has provided crucial support to the project.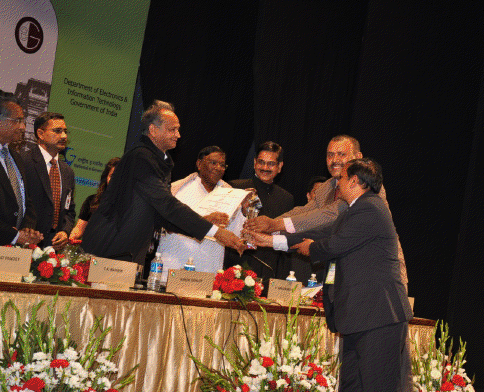 Bihar GIS team consisting of Santosh Kumar, State Informatics Officer and Shailesh Kumar Shrivastava, Technical Director and Project Co-ordinator received the award from Ashok Gehlot, chief minister of Rajasthan and V Narayanswamy, Minister of State for PMO and Administrative Reforms at Jaipur on February 11, 2013.
Bihar Infrastructure Mapping Geometics Oriented Application Model, which has been named "I-Bhugoal", is being construed as the first step towards having authentic data, on the basis of which "entitlement-based" planning would be introduced as far as creating uniform infrastructure across the state is concerned. The Information technology department, government of Bihar is funding the 1.99 crore project, while National Informatics Centre(NIC) is executing it. Some of the key departments, infrastructure mapping of which has been done as part of the project, are health, education, social welfare, rural works, road construction, rural development, minor irrigation and water resources. Besides, the project aims to map habitations so that the planners could have an idea of areas with available infrastructure.
An advanced knowledge about available infrastructure would help planners in allocating funds for different areas and departments without depending on the demands raised by various departments––a practice that sometimes leads to imbalanced growth and propels regional imbalance within the state.
Availability of information about school buildings would help the election department, because these institutes are used as polling booths during elections.
Anticipating the utility and innovativeness of the project, the Centre has awarded "I-Bhugoal" for the National e-governance award 2012-13 with Gold Medal. The project has undergone four rounds of screening project while getting ahead of states like Delhi, Gujarat, Haryana, J&K etc.
The state government has decided to use the project to create a database for implementing Mukhya Mantri Gram Sampark Yojana, which entails construction of around 34,000 km of all-weather roads to connect more than one lakh habitations having population of 250 each in the next five years at a cost of Rs 23,881 crore. The project has to be implemented by the rural works department. The image generated by I-Bhugoal project would have maps of various types of existing roads connecting the habitations. It would also validate existing data about habitations that were generated during the National Habitation Survey, 2003.
"The government has decided to use satellite imagery for the ambitious project, as use of similar technique for having the map of core network of roads for implementation of Pradhan Mantri Gramin Sadak Yojana (PMGSY) proved to be of great help," a source in the rural works department said. Lack of validated information of the core network had given the Centre leverage not to release funds under PMGSY for more than three years. "Only after submission of satellite-image based core map of roads, the Centre has released more than Rs 4,000 crore funds to the state and more is in the offing.
Introduction of GIS technologies brings in focus existing spatial reality which will lead to dynamism and transparency in the nature of working, in order to overcome problem issues related to planning, development monitoring & decision-making. Establishing GIS system for data organization and management for existing MIS infrastructure and its coverage, with appropriate technology framework and standards enable quality decision making within organization. This has been demonstrated by the benefits that have been accrued by Rural Works Department, Election Department, Education Department, Social Welfare and other works departments. Moreover, a number of requests are also pouring in for including various other departments under this GIS framework.
Objective of the project include:
Creation of State Spatial Database Infrastructure for sharing among various departments.
Integration of Geo-spatial data and MIS data of different departments namely Education, Rural Works, Social Welfare, Election, Building Construction, Irrigation etc. has been completed Integration of SOI maps with online map services such as Google, Bing, ESRI etc.
Query facilities for Planning and decision making by departments Facilitates efficient & effective tool for planning rural road connectivity to habitations.
Facilitates for coverage of habitations through various kinds of Schools.
Helps in better management of facilities such as Schools, Aganwadi Kendra, PHCs etc which deliver citizen centric services.
Helps achieve transparency & easiness in planning & monitoring processes of work-site so that real-time monitoring can be done.
Smooth and Effective Management of Election process through proper use of GIS maps
Offers scientific approach for irrigation facilities planning, flood management and management of
embankments.
Analysis of Forest Reserve and forest inventory so that clearance of schemes can be linked
through GIS maps.