| | |
| --- | --- |
| | Patna,(BiharTimes): Opening his mouth for the first time after the three-member Fact-Finding Team submitted its report last week to the Press Council of India chairman, Bihar Chief Minister Nitish Kumar on Wednesday strongly criticized, Justice Markandey Katju, for what he said "unsubstantiated" remarks on Press censorship in the state. |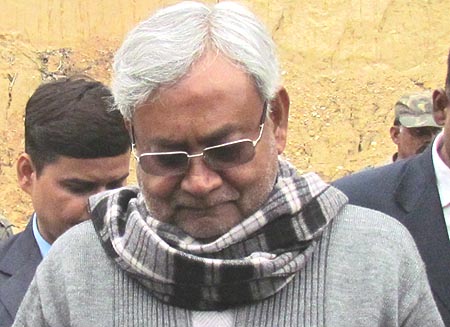 Not only that he came down heavily on the report of the Fact-Fnding Team and questioned the integrity of its members. One of its members was Arun Kumar of the Times of India, Patna edition. He said he was aware of the type of requests some media persons make to the government.

Speaking in the state Assembly the chief minister charged that Katju had crossed the line of dignity required for the his constitutional post and "attacked me without substance for muzzling freedom of Press in Bihar."

Nitish criticized Katju for what he said biased and motivated attack on him in brazen violation of the dignity of the constitutional post that the retired Supreme Court judge held.

Nitish appeared upset over the reported remarks equating him with Ghananand, the last ruler of the Nanda dynasty. "It is particularly objectionable as the comments were made to demean me," the chief minister said.

He said Justice Katju simply "did not show respect to the constitutional post or his distinguished family background by comparing me with Ghananand."

Nitish said he has no business to indulge in making biased, motivated and ill-tempered comments against other constitutional persons.

The chief minister said though Katju has tried to malign him by casting baseless aspersions to undermine his position and persona, he was not going to be rattled and would discharge his duties as per the mandate of the people.

"Justice Katju has not elected my government, it is the people of Bihar who have elected us. The PCI Chairman should be mindful of facts and must respect the democratic and constitutional institutions all the time," he added.

Referring to Katju Nitish said the report was compiled at the behest of a person who has charged the state government with muzzling the freedom of Press and formed a team to probe the charges.
The report was made public even before it could be ratified by the full panel of the PCI.

The chief minister defended his government's media policy and claimed that the government has never put pressure or influenced media houses to write news reports in a particular manner. No censorship has been imposed on the media in Bihar and the media is absolutely free to write whatever it desires.
He asked under what rules and on whose complaint the PCI chairman found it appropriate to form the Fact-Finding Team to probe the alleged Press censorship in Bihar.

Besides, he asked under what provisions of the law that the report was released or leaked to the media.