| | |
| --- | --- |
| | Wajidpur (Bihar), Jan 6 (IANS) Mauritius President Rajkeswur Purryag turned emotional Sunday as he set foot in his ancestral village in Bihar's Patna district, over a century and a half after his great-grandfather emigrated from it. |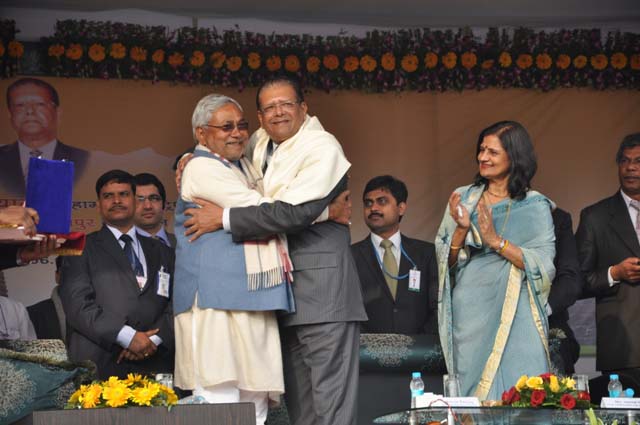 "I am visiting this village, the land of my great-grandfather about 150 years after he left it for Mauritus. I am really emotional at the moment," Purryag said a choked voice at a public function in his honour at Wajidpur village, 20 km from Patna.

Purryag's great-grandfather, named Prayag, lived in Wajidpur village -- now under Punpun block of Patna district -- before he migrated to Mauritius, then a British colony, in the 19th century, to work as an indentured labourer.

Thousands of people, including the entire village, as well as hundreds from neighbouring areas gathered for a glimpse of the "Mitti Ke Lal (Son of the soil)" when Purryag along with his wife Aneetah Purryag and Bihar Chief Minister Nitish Kumar reached the village.

Speaking in not-so-fluent Hindi, Purryag addressed the villagers as "gaon ke bhai-bahen and jawan (brothers, sisters and young of the village)" drawing a roar of applause from the waiting crowds for the "rashtrapati beta (president son)".

"I greet you all and I also greet this land. I am very emotional and very happy to visit the village," he said.

Purryag also said that the relationship between India and Mauritius is like that between two brothers.

"Hamara sambandh bhai-bhai ka hai, do desh ka nahin (our relationship is like brothers, not like two countries)" he said.

Purryag was welcomed by villagers in traditional style and met his distant relatives Ganesh and Mahesh Mahto. The two were invited on to the dais, and Purryag chatted with them and inquired about them.

The Mahtos gifted some soil and a bushel of freshly-harvested paddy to Purryag. Some villagers also presented him a silver memento.

Earlier, Purryag and his wife arrived at Patna airport and were received by Nitish Kumar.

"After spending an hour at Raj Bhawan, they proceeded to Wajidpur village," said an official.

Purryag is in India to attend the Pravasi Bharatiya Divas diaspora meet.

In January last year, Kamla Persad-Bissessar, the first woman prime minister of Trinidad and Tobago, visited her ancestral village Bhelupur in Bihar's Buxar district.

Her great-grandfather Ram Lakhan Mishra reportedly left Bhelupur in 1889 to work as indentured labourer in the West Indies.

Nearly five years ago, Mauritius Prime Minister Navinchandra Ramgoolam had visited his ancestral village in the state's Bhojpur district.

A large number of people from Bihar had migrated to Mauritius, Fiji, Trinidad, Suriname, South Africa and other places in the 19th century to serve as indentured labourers on sugarcane and rubber plantations.