Patna, Jan 14 (IANS) Bihar Chief Minister Nitish Kumar Monday demanded that the ruins of the state's ancient Nalanda university be included in Unesco's list of World Heritage Sites.

"The central government should make an earnest effort for inclusion of Nalanda sites in the UNESCO list," Nitish Kumar said here at a function.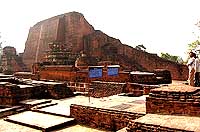 "We strongly feel that the ancient university's inclusion in the UNESCO list will attract more tourists, especially foreigners," he added.

The excavated site of the ancient university in Nalanda district is a place of national importance. A fifth century architectural marvel, the university was home to over 10,000 students and nearly 2,000 teachers.

Named after the Sanskrit term for 'giver of knowledge', the varsity, which existed until 1197, also attracted students and scholars from South Korea, Japan, China, Tibet, Indonesia, Persia (now Iran) and Turkey.

It was devoted to Buddhist studies, but also conducted studies and training in the fine arts, medicine, mathematics, astronomy, politics and the art of war.

In 1193, the Nalanda university was ransacked by an army led by Bhaktiyar Khilji, a Turkish general of Qutb-ud-din-Aibak of the Slave Dynasty, the then ruler of northern India.