| | |
| --- | --- |
| | New Delhi, Jan 28 (IANS) Former union minister Yashwant Sinha Monday backed Gujarat Chief Minister Narendra Modi for the BJP's prime ministerial candidate but the party said that a decision will come "at an appropriate time" and a key ally said they would comment when it was official. |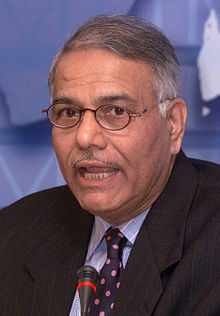 Sinha, a Bharatiya Janata Party (BJP) MP and former union minister, said here that declaring Modi as party's prime ministerial candidate ahead of of the Lok Sabha elections will immensely benefit the party.

He also said that Janata Dal-United (JD-U), BJP's ally in National Democratic Alliance (NDA) which has strong reservations on Modi's candidature because of the 2002 Gujarat riots, should accept the prime ministerial candidate decided by his party.

JD-U downplayed Sinha's remarks and said it will react once BJP makes an official announcement.

Sinha said there has been a strong demand from workers that Modi should be declared as the prime ministerial candidate.

"I have also reached this conclusion that if Modi is declared the party's PM candidate, the BJP will gain hugely in the elections. It will have a big impact on voters. I have no doubt on this," he said.

He said the decision had to be taken by the party but he was reflecting feelings of party workers.

The remarks have raised eyebrows in the party as leaders of opposition in the two houses - Sushma Swaraj and Arun Jaitley - are also considered as potential prime ministerial candidates and senior leader L. K. Advani has also not ruled himself out either.

Sinha also took exception to JD-U's reservations about Modi's secular credentials, calling it a "flawed argument" and saying that it was unfair to target an individual.

"I am reflecting the mood of the country, and the mood of the BJP. JD-U is a different party. My personal view is that if BJP leadership were to project a prime ministerial candidate, other partners should accept and should not make an issue about it," he said.

JD-U leader Shivanand Tiwari said his party would react to the choice of prime ministerial candidate once an official announcement was made, noting it had already made its stand clear.

JD-U leader and Bihar Chief Minister Nitish Kumar has insisted that NDA's prime ministerial candidate should have impeccable secular credentials.

Asked about Sinha's remarks, BJP leader M. Venkaiah Naidu, terming them "personal views", said the party will take appropriate decision at an appropriate time, noting there were several leaders with experience in the party capable of leading the country.

He however said that several party leaders have said that Modi "had the capability for the post".

"The party will discuss the issue. Appropriate decision will be taken at appropriate time. There is no hurry," he said, adding the issue will be first discussed in BJP and then talks will be held with allies.

Newly-installed BJP chief Rajnath Singh told reporters that the issue will be discussed at the party's parliamentary board at an appropriate time.

Congress spokesperson Raashid Alvi there was no need to react to Sinha's remarks as it was an internal discussion and there was no possibility of the BJP winning the elections.

There has been growing clamour in the BJP for a national role to Modi after his third successive victory in Gujarat. Party MPs Smriti Irani and Tarun Vijay are among those who have backed Modi as prime ministerial candidate.

There have been suggestions that Modi could be appointed head of party's campaign committee for 2014 polls - a move which will effectively pitch him against Congress vice-president Rahul Gandhi.