Patna,(BiharTimes): Chief minister Nitish Kumar on Tuesday laid the foundation stone of Rs 530-crore Bihar Museum on the southern flank of Jawaharlal Nehru Marg (Bailey Road). It is to come up over an area of 13.5 acres and is likely to be built in 20 months.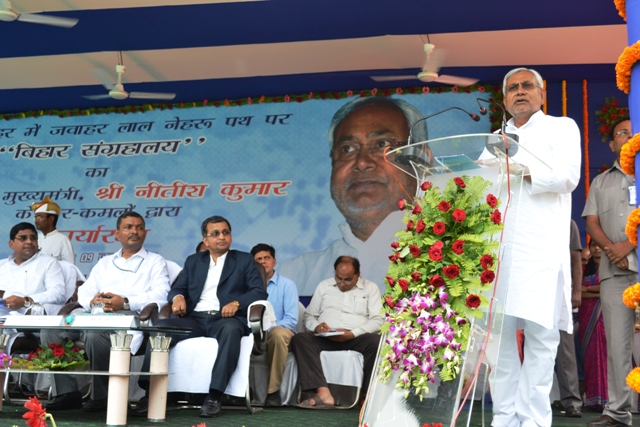 Speaking on the occasion the chief minister said that it would, most likely, be inaugurated on March 22, 2015, that is Bihar Diwas. He further added that though Patna Museum is globally acclaimed, it faces shortage of space and the artefacts and exhibits are not maintained on a par with international standards. Therefore, the state government decided to develop a museum of international standard and named it Bihar Museum.
It would be built jointly by building construction department and the department of art, culture and youth affairs. The contract for the construction was given to L&T in June. The firm has claimed that they would complete the construction before the expected period.
The site of the proposed museum was earlier occupied by seven old bungalows between L N Mishra Institute and Hartali More. The building construction department has demolished all these bungalows in the past couple of weeks.
It needs to be recalled that the government had signed a memorandum of understanding with Canada-based consultancy firm Lord Cultural Resources in July 2011 to appoint them master consultant for the project.