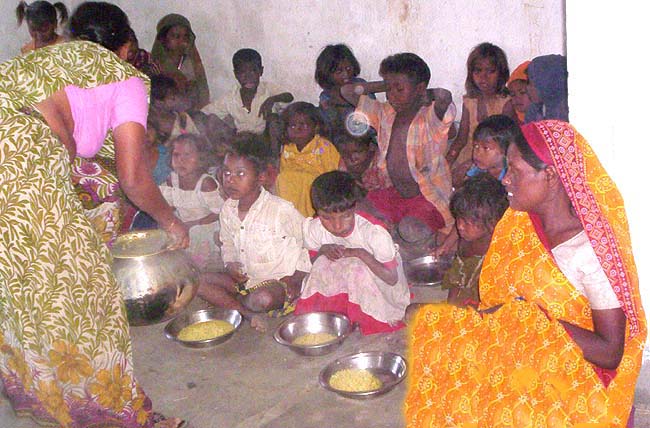 patna,(bihartimes): a study done by international growth centre (igc) said that 71% of the budget for hot cooked meals at around 200 anganwadi centres (awcs) in bihar was lost in leakage. it also revealed that 38% of the take home ration (thr) fund too gets lost in leakage.
idinsight, one of the constituent bodies of igc, came to this conclusion in a survey conducted in three districts––gaya, muzaffarpur and madhubani. it covered 200 awcs under 20 blocks of these three districts.
ronald abraham of idinsight, presented these facts on the opening day of the two-day bihar growth conference jointly organized by the igc and adri.
he said "we paid unannounced visits to these awcs, interviewed beneficiaries, sevikas and shopkeepers and got supplementary nutrition programme (snp) food samples tested at an accredited lab before drawing any conclusion."
the study also revealed that 38% of the take home ration (thr) fund too gets lost in leakage.
according to the study against the supreme court's order on snp, that 500 calories and 12 to 15 grams of protein per meal should be provided to each child, children get only 77% to 78% of the stipulated calorie level and protein.
the study also pointed out that there was alarmingly high malnutrition among children and mothers. in all 43% of children are underweight while 38.6% of mothers are below the normal weight.
ironically these levels are lower than those reported by the 2005 national family health survey. but they are almost identical to the data from the same districts in a 2011 survey conducted by the nandi foundation. it is greater than the all-india average.
another study on the nutritional status of beneficiary and performance of icds supplementary nutrition programme in the state stressed that integrated child development scheme (icds) has failed to produce worthwhile results in 35 years of its existence.
prachi mishra of the union finance ministry said due to its flawed design, the scheme is not able to produce expected results. she further said incentives to the employees to perform are inadequate, beneficiaries have no idea about their entitlements and there is no proper grievance redressal mechanism for beneficiaries, and the scheme lacks proper framework for appointment or removal of awc employee.
anajini kochar of stanford university said the study on nayi pidhi swasthya guarantee yojna (npsgy) revealed that bihar fell short in terms of public health care as well. whereas primary health centre (phc) norms suggest that there should be altogether 13 staff, including one lady health worker (lhw), at a phc, in bihar only 28% of phcs have an lhw.
the conference was inaugurated at maurya hotel by deputy chairman of bihar state planning board hari kishore singh. around 20 delegates from different universities across the world participated in it.