panaji, june 9 (ians) the man who tirelessly crisscrossed gujarat's roads and alleyways on a scooter building the bjp brick by brick is now in the driver's seat. narendra modi is now all set to chart a strategic course for the party's victory in the 2014 lok sabha polls.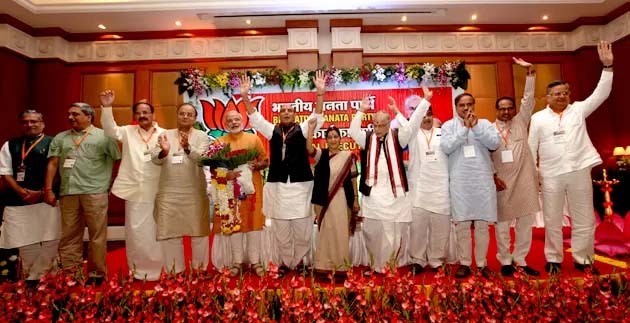 modi's ability to first convert adversity into opportunity, and then leapfrog from one milestone to the next has been one of the reasons behind the 62-year-old leader's phenomenal rise in the bjp ranks.

born as narendra damodardas modi in mehsana district in north gujarat, the bespectacled chief minister helped his father run a tea stall, say his aides.

the journey from a young boy with humble, lower middle class roots boiling tea and serving savouries to making thousands of party workers and leaders eat out of his hands has been a fascinating one.

his first tryst with public life was in his teens as a akhil bharatiya vidyarthi parishad (abvp) volunteer after which he almost automatically upgraded himself to its mother forum, the rashtriya swayamsewak sangh.

his political life kicked off when he joined the bjp in 1987 and became the general secretary of the gujarat unit within a year.

rss veterans recall how modi, who had shown much promise, had been instructed by the sangh leaders to attend political meetings and rallies, to learn the art of politicking from up-close.

the quiet student did not miss out on much.

pundits say his proximity to l.k. advani when he organised the "ram rath yatra", from somnath to ayodhya in 1990, welded into a fruitful relationship, especially after the rath yielded the party both political and electoral winnings.

modi also organised murali manohar joshi's kanyakumari-srinagar "ekta yatra" in 1991 when joshi was the party president.

in 1995, he was appointed national secretary of the party. in 1998, he was promoted as the general secretary (organization), a post he held until october 2001 when he was chosen to be the chief minister of gujarat, says modi's biographical note on his website.

the bjp government in gujarat was led by senior leader keshubai patel, whose government was facing allegations of corruption and sluggish administration.

modi replaced patel, a man he had helped to win the preceding election.

modi's present day identity is largely influenced by the 2002 godhra violence, and his government was blamed for allegedly conspiring with the hindu rioters.

the charge has stuck for over a decade.

then prime minister atal bihari vajpayee had indirectly asked modi to step down, saying he should abide by "raj dharma", during a bjp meeting in goa in 2002.

modi had faced the prospect of being sacked only after a few months in office. but his networking and abilities saw him through, once again.

backed by advani, modi managed to save the day, and won resounding success in 2002 where he won 128 out of 182 seats by playing the hindutva card.

that victory helped him 'purge' nearly all opposition from within the party. some, bjp insiders say, were cornered into calling it quits.

under modi's leadership, the bjp won gujarat again in 2007 and 2012. modi became a symbol of development and the party's ability to deliver good governance.

the appointment of modi as the chairman of the party's election management committee has now ensured him transition from a heavyweight in state politics to a man seeking to make a mark on national polity.

it is a sign that the age of patriarchs like vajpayee, advani and joshi is now past.

in the age of twitter, facebook and blog updates, the time of the tech savvy, bespectacled and bearded modi may have just arrived.