Patna,(BiharTimes): Former Rajya Sabha member Upendra Kushwaha on Sunday came up with another political party. This time he named it Rashtriya Lok Samata Party (RSLP).
Speaking at a rally in Gandhi Maidan, where he announced the formation of his party he said RSLP would emerge as a credible political platform in the state that would also strive to fulfil the collective aspirations of the people.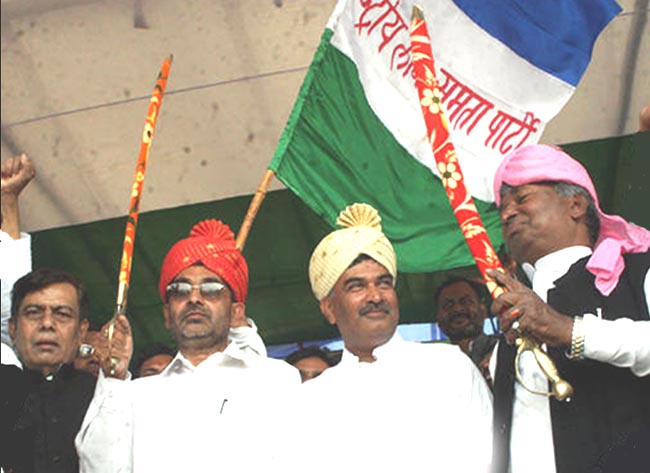 Kushwaha made the announcement at the rally of Nav Nirman Manch, which he floated a few months back. He was the convener of the Manch and is now the president of the new party.
It was only in February 2009 that he formed Rashtriya Samata Party. Before that he was in the Nationalist Congress Party.
But at a programme organized on the birth anniversary of Sardar Patel on Oct 31 the same year (where Kushwaha was present) chief minister Nitish Kumar appealed to him to rejoin the party. Soon he was back in the party and in June 2010 he was elected to the Rajya Sabha on Janata Dal (United) ticket.
But once again at the time of Oct-Nov 2010 Assembly election the rift developed as Kushwaha was unhappy over the denial of tickets to some of his supporters. He floated Nav Nirman Manch and than subsequently gave up his Rajya Sabha seat.
Political observers are of the view that Kushwaha might have some support of Koeris, his own caste, but his ekla chalo re (go it alone approach) might backfire. As he was once the leader of opposition in Bihar Assembly a decade ago and a senior leader of Janata Dal (United) then he always considers himself on par with Nitish Kumar and his deputy Sushil Kumar Modi. But since he lost election in his own Assembly constituency in Nov 2005 he lost his bargaining position.
Prominent among those present on the occasion includes Arun Kumar, former Jehanabad MP and bitter critic of the chief minister, and former MLA Satish Kumar, the organizer of Kurmi Chetna rally, the earliest caste rally, which brought Nitish Kumar into prominence in early 1990s.
All of them blasted the Nitish government for extremely bad law and order situation and accused the state government of leaving the bureaucracy and police unbridled. They also came down heavily on rampant corruption, loot and mismanagement in education, health and all other sectors.