Patna,(BiharTimes): The Bihar government has started proceedings against four tainted IPS officers, including former DIG Saran, Alok Kumar and Araria SP, Shivdeep Lande.
Replying to a starred question by the BJP MLA Vinod Narayan Jha, Parliamentary Affairs Minister Bijendra Prasad Yadav said that proceedings have been initiated against Alok Kumar and three SPs. They are Shivdeep Lande, Ansuia Ran Singh and Babu Ram. The last two had recently served as the SPs of Sheikhpura.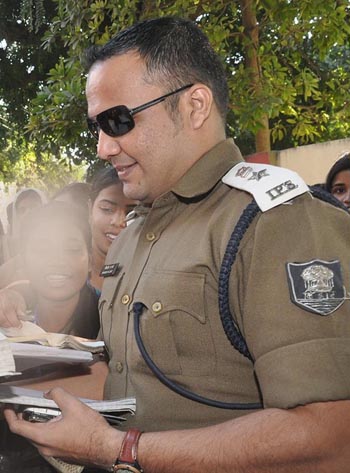 The minister said that the Economic Offence Wing (EOW) has lodged a case against Alok Kumar for allegedly demanding Rs 10 crore extortion from a liquor trader in Siwan district last month and a chargesheet would be framed against him soon.
He said the DIG Purnia was investigating an allegation of extortion from a businessman against Lande. Departmental proceedings have been initiated against the former Sheikhpura SP Anasuia Ransingh.
The minister further said a high-level probe was held against Babu Ram in a case of atrocities on a liquor trader and departmental proceedings against him was under consideration by the police department. The state government will carry out investigation against all four IPS officers as per rule.
The Parliamentary Affairs Minister, while replying to another question said Alok Kumar belongs to Jammu and Kashmir cadre and he was brought on deputation for five years from 2010 following mutual agreement between the two states.