Patna,(BiharTimes): Dozens of para-teachers, several of them women, were injured in a brutal police lathicharge on them on Tuesday near R-Block, about 200 metres from the gate of Bihar Assembly.
According to police they resorted to lathicharge after the demonstrating contractual teachers tried to break the barricade erected by them. On the other hand the teachers accused the police of lathicharge on the peaceful demonstration.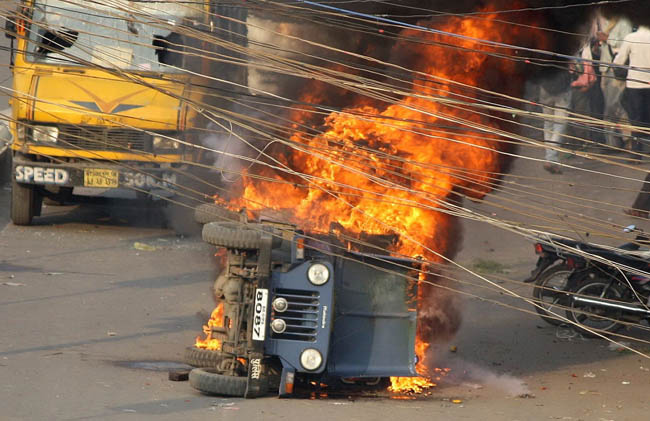 The mob of thousands of teachers soon turned violent and set ablaze about half a dozen government and police vehicles. Several policemen were also injured in the brickbatting from the teachers.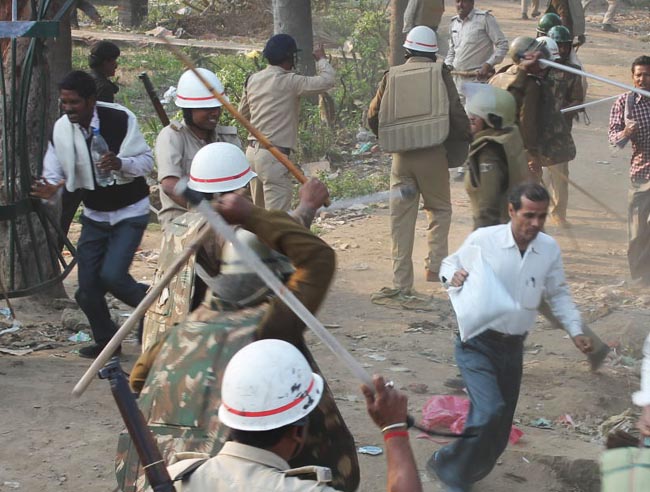 The teachers alleged that on Monday night those undergoing fast unto death were forcibly evicted by the police and beaten up. The teachers are on warpath to press their demands, which among other things, included confirmation of their jobs and timely payment of salary.
Opposition parties later raised the issue in the Bihar Assembly and accused the state government of using force against teachers who were demanding salary and confirmation of jobs.
The police did not spare the women teachers too and they too were brutally thrashed by male policemen. It remained a mystery as to why female cops were not press into service when it was well known in advance that many female teachers are part of the demonstration.
The merciless beating of women teachers by policemen has been widely criticized not only by the opposition parties but women groups too.
Several passers by too received sound thrashing at the hands of police as they got caught in the clash. The police had to fire teargas shells too to disperse a big mob. The teachers have been agitating in Patna since March 1 and on Monday night too the state capital witnessed ugly scene when the police cracked down on them.
Several injured teachers were admitted to PMCH and some private nursing homes. The condition of some of them is said to be serious.
Responding to the opposition allegation the government said that the police had to act only in retaliation.
Meanwhile, Puran Kumar, president of Bihar Rajya Shikshak Sangh Morcha, accused the education minister P K Shahi of backtracking from the promise he made after talks with the teachers in December last. He asked as to why is this discrimination in salary when the para-teachers are now being used as full-fledged teachers.
On the other hand Janata Dal (United) spokesman, Rajiv Ranjan, said that the teachers had accepted the service condition at the time of appointment.
On the other hand RJD leader, Ashok Sinha, asked as to where have all the resources gone after so much growth rate? Why is the state government now saying that it can not afford to pay salary and confirm the jobs of para-teachers? After all most of the money for para-teachers come from Sarva Shiksha Abhiyan of the state government, he said.