New Delhi, March 6 : Taking note of media reports of the thrashing by police of group of teachers in the Bihar capital Patna, the Supreme Court Monday issued notice to the chief secretary of the state.

An apex court bench of Justice G.S. Singhvi and Justice Ranjana Prakash Desai while issuing the notice said: "We are taking suo motu congnisance...after seeing the disturbing visuals on television. The incident has shocked the conscience of the entire nation."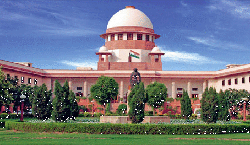 "The incident raises important constitutional issues relating to Article 21 of the constitution and dignity of individual. We, therefore, feel that it is proper for this court to take cognizance of the gross violation of the human rights as well as the constitutional rights of the people," the court said.
Nearly 50 fixed-pay teachers on contract, including women, were injured in police lathicharge during a protest in Patna Tuesday. The teachers were demanding permanent jobs and equal pay for equal work.
Taking on record the various newspaper reports of the incident, the court in its order said: "The contents of the news items revealed that members of the Patna Police have mercilessly beaten an unarmed woman and teachers."

The court said: "Unfortunately, the administration of the government of Bihar has not taken adequate steps for protecting the people against the wholly unwarranted action taken by the police at Patna."

The court asked Attorney General G.E. Vahanvati to assist the court in the matter. The court also asked senior counsel Harish Salve and U.U. Lalit to assist the court as amicus curiae.

The court directed the registry to place the matter before the Chief Justice Altamas Kabir and seek his direction for the listing of the case March 11, 2013.
(IANS)