Patna,(BiharTimes): If reports coming from New Delhi is true the Janata Dal (United) MP from Muzaffarpur, Captain Jai Narayan Nishad, is going to organize a yagna at his residence for realizing Gujarat chief minister Narendra Modi's dream to become Prime Minister of India.
Commenting on the issue, BJP leader Mukhtar Abbas Naqvi said there is no wrong in performing puja for someone.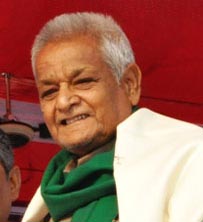 On the other hand JD (U) spokesperson Sabir Ali told the media that no political party gives importance to Nishad.
Captain Nishad's move is likely to annoy Bihar Chief Minister Nitish Kumar. Of late he has been critical of Nitish though the latter gave him ticket from Muzaffarpur in 2009 by denying it to George Fernandes on the ground of poor health.
But political observers are of the view that Captain Nishad is in the habit of changing loyalty. He was RJD MP from Muzaffarpur before he switched side to join BJP and than to Janata Dal (United).
Only a few months back he repeatedly called the BJP a sweet poison and urged the JD(U) president to be alert about it.
Since he had been criticizing both the BJP and JD(U) some political observers are of the view that he may rejoin the RJD if ticket is denied to him in 2014 Lok Sabha poll. But the latest report about the yagna for Narendra Modi says a totally different story.
Captain Nishad is a prominent leader of Nishad community, which has a sizeable population in several north Bihar districts, especially Muzaffarpur.