By stating that Ya to abhi do, ya chaudah ke baad zaroor do ge (Either give special category status now or after 2014 election) Bihar chief minister Nitish Kumar clearly hinted what is his post-poll priority.
The message between the lines was that if the 2014 Lok Sabha election ends in dead heat between Congress and BJP his Janata Dal (United) may bargain the demand of special category status to lend support. If the Congress gives the assurance he may cross over from NDA to UPA.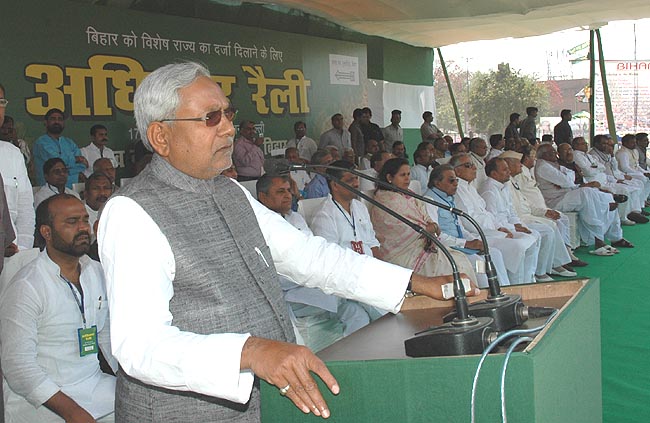 The truth is that with thousands of supporters in front it is easy to feel elated and throw whatever 'challenge' one can. But suppose the Congress does not give any such assurance or situation does not arise what will Nitish then do? Herein lies the crux of the matter.
Then to whom he is addressing chaudah ke baad zaroor do ge. If NDA comes to power or gets a clear-cut edge over UPA in that case Nitish will be bound to remain in the same camp. Nobody will then listen to the demand of special category status.
There are two opinions about this whole action of Nitish Kumar. The first is that he is becoming over-ambitious and in the process even betraying the BJP which helped him reach this height. Or he is getting trapped by the Congress, who is hell bent upon breaking the NDA, which has apart from BJP just three parties, the Janata Dal (United), Shiv Sena and Akali Dal.
There should be no doubt that in alliance with the BJP he is still in a comfortable position and apparently in no need to ditch it. He owes much of his success in his political life to his alliance with the saffron party. From 1995 to 2013 the journey was not so simple. After the 1995 Assembly election his outfit, Samata Party, ended up with just seven seats in the House of 324 though he contested the poll in league with CPI ML.
It was when he joined hands with the BJP in early 1996 that his upward journey began. Now he is in position of abandoning the same party which helped him reach this stage. Only a day before the rally the party spokesman Shivanand Tiwary went on to state that the Janata Dal (United) can go it alone.
Till a few years back Janata Dal (United) was hardly a party with any resources to even contest election. It was the BJP which, to get Lalu-Rabri government removed projected him and provided all human as well as material support. The Hindutva party made big sacrifice and always left more seats for Janata Dal (United) to contest even when the latter had no workers to man the booths. The BJP workers did everything to let Janata Dal (United) grow. All this was because Nitish was a suitable backward caste alternative to Lalu Yadav.
Nitish consolidated his position on his own only after becoming the chief minister in November 2005. But the first thing, which he did after firming up his own position is that he started asserting himself. Of late he has been repeatedly talking about the post-poll scenario and in the Ramlila Rally he said so for the first time at a public meeting in New Delhi.
It is less out of love for Narendra Modi and more after feeling cheated that a strong section of the BJP in Bihar is openly siding with the Gujarat chief minister. It was only when Nitish openly humiliated the BJP bigwigs by cancelling the dinner during the national executive meeting in Patna on June 12, 2010 and returned the flood relief fund to Gujarat that some of the BJP ministers for the first time opened their mouths against their own CM.
Leaders like Dr C P Thakur, who has no RSS background––he in fact crossed over from the Congress to the BJP––have now become great champion of the Gujarat chief minister.
It appears now that Janata Dal (United) may contest poll in alliance with the BJP and change side only when any such situation arises after the Lok Sabha election. But if the Congress really offers special status and Nitish goes over to the UPA camp in that case how will Janata Dal (United) fight the Assembly election of Oct 2015.
Congress in Bihar is in no position to compensate for the huge loss in the form of BJP. Nitish may try to woo Muslims. But then Muslim forms only16.5 per cent of votes and a sizeable number of them already voted for him in 2010. Can he expect more than that Muslim votes by just stating that look "now I have deserted Narendra Modi." Anyway it is a risky position.
The problem is that Nitish is playing a confused politics and if anything goes wrong it may backfire. As media is not free in Bihar there is hardly any scope for balanced opinion to come up and warn Janata Dal (United) of dangerous game it is playing.