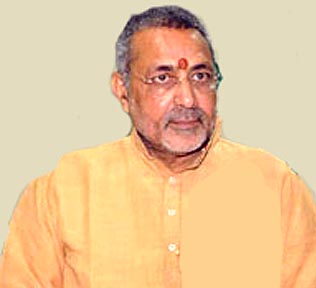 Patna,(BiharTimes): Animal husbandary and fisheries minister in Nitish cabinet, Giriraj Singgh, once again came down heavily on his own chief minister's model of development.
Talking to reporters a day after Adhikar Rally he sought to disapprove the description of Bihar's growth story as a 'model' by Nitish and said that it would not be fair to compare it with the 'Gujarat Model' that has drawn global attention.
The 'Gujarat model' has evoked praise at the world stage and was being talked about in developed countries, he said.
Singh said that the NDA government has a lot of work to do to present its growth story as a model for others to emulate.