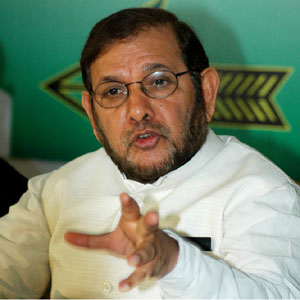 New Delhi, March 26 :JD-U president Sharad Yadav Tuesday welcomed the reported central government move to change the criteria for "backwardness" to release more funds for Bihar but said there was no need to derive political meaning from it.

Yadav said the media had reported Tuesday that the central government was considering changing norms to determine backwardness of states.

"Whatever is happening, it is worth welcoming," the Janata Dal-United chief told reporters here and added that too much should not be read into the government's move.

"There is no need to derive political meaning from this," he said.

Yadav, who is the convenor of the Bharatiya Janata Party-led National Deomocratic Alliance (NDA), said that the JD-U had been demanding special category status for Bihar.

Finance Minister P. Chidambaram in his budget speech last month said that the criteria for determining backwardness was based on terrain, density of population and length of international borders. He proposed to evolve a new method which would be reflected in future planning and devolution of funds.

Chidambarm's announcement was seen in political circles as a move by the Congress to wean JD-U leader and Bihar Chief Minister Nitish Kumar away from the NDA.

Nitish Kumar has been pressing for special category status for Bihar.

BJP leaders, however, dismissed suggestions that the JD-U would inch towards the Congress following the central government sanctioning more funds to Bihar.

They said the BJP backs the demand for a special category status for Bihar and there was a need to revisit norms of backwardness.

BJP spokesperson Ravi Shankar Prasad said that the JD-U was an integral part of the NDA.
(IANS)