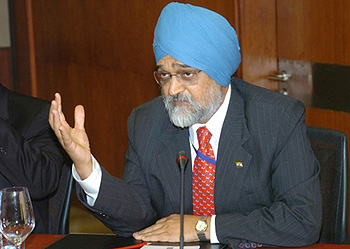 Patna,(BiharTimes): The deputy chairman of Planning Commission, Montek Singh Ahluwalia, said that there was no change in its position on granting special category status to Bihar.
Talking to reporters in New Delhi Ahluwalia said that the position of Commission on special category status to Bihar has not changed. The Commission had consistently maintained that Bihar does not fit the case for special category status. Only the National Development Council––a body of all chief ministers–– can change criteria for granting the status.
As reported earlier a panel headed by former Planning Commission secretary Sudha Pillai had rejected Bihar's demand for special category status saying that it fails to meet the norms, such as, hilly and difficult terrain, low population density, sizeable tribal population, strategic borders with neighbouring countries and unviable nature of state finances.It even submitted a report to the Prime Minister's Office in this regard last year.
The panel had, however, accepted that Bihar was facing "huge development deficit" and its per capita income was lower than the national average and may require additional financial benefits to improve socio-economic situation.
In view of its recommendation, the Planning Commission is set to increase allocation for Bihar under the revamped Backward Regions Grant Fund (BRGF). The Fund in its new format is expected to be implemented from the next financial year.