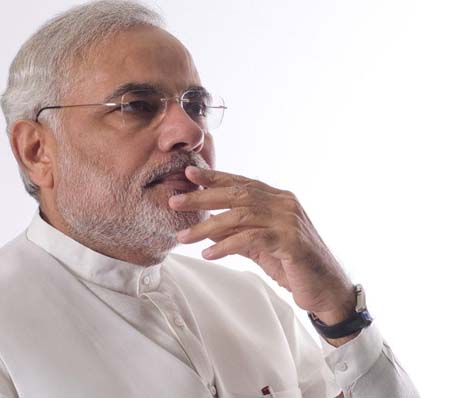 New Delhi, March 31: Giving a clear indication of the bigger role Gujarat Chief Minister Narendra Modi would play in the party's preparations for the 2014 Lok Sabha polls, the BJP Sunday reinducted him into its top decision-making group, the parliamentary board.

The Bharatiya Janata Party (BJP) also sought to reinvigorate its team of office bearers by promoting some young faces and articulate parliamentarians.

The rejig by BJP president Rajnath Singh also saw Modi's controversial aide Amit Shah and Pilibhit MP Varun Gandhi also being made general secretaries and former Madhya Pradesh chief minister and rebel Uma Bharti a vice president.

Modi, the only chief minister to find a place in the parliamentary board, also has been made a member of the party's central election committee and will clearly play a role in selecting party candidates for the coming elections.

Modi comes back to the parliamentary board after about six years but in changed circumstances. There have been demands from some sections that he be declared the BJP's prime ministerial candidate.

There are also indications that Modi would head the party's campaign committee for the Lok Sabha polls in the coming months.

Amit Shah's induction as general secretary is being seen in party circles as Modi's influence in the composition of the new team.

Shah is an accused in the Soharabuddin Sheikh and Tulsi Prajapati alleged staged shootout cases. He is a legislator from Naranpura in Gujarat.

Rajnath Singh's new team, which will take the party through preparations of crucial assembly polls this year to five states and the Lok Sabha polls in 2014, includes 13 vice presidents, 10 general secretaries, 15 secretaries and seven spokespersons.

The new vice presidents include former Karnataka chief minister Sadananda Gowda, former MP S.S. Ahluwalia, MPs Smriti Irani, Balbir Punj and Prabhat Jha and former Punjab minister Laxmi Kanta Chawla.

Uma Bharti, who has been associated with the Ramjanambhoomi movement, has returned to the team of central office-bearers.

Five of the 13 BJP vice presidents are women.

Bangalore South MP Ananth Kumar and paryt leader from Odisha Dharamendra Pradhan have been retained as general secretaries though there was speculation about their continuation in the posts.

Besides them, the 10 general secretaries includes former central minister Rajiv Pratap Rudy, former party secretary Murlidhar Rao and former Himachal Pradesh minister J.P. Nadda. Ram Lal will be general secretary (organisation).

Varun Gandhi has also returned to the party's centrestage with his appointment as general secretary.

Two cases were registered against him for delivering "hate speeches" during his 2009 election campaign, but he was exonerated of the charges.

Party veterans Yashwant Sinha and Jaswant Singh have not found a place in Rajnath Singh's team. Najma Heptulla, Hema Malini and Shanta Kumar also have been dropped as vice presidents.

The new spokespersons include former MP Bizay Sonkar Shastri, Rajnath Singh's political aide Sudhanshu Trivedi, lawyer Meenakshi Lekhi and former party secretary Capt Abhimanyu.

Prakash Javadekar, Shahnawaz Hussain and Nirmala Sitharaman will continue as spokespersons.

Ravi Shankar Prasad, the BJP's deputy leader in the Rajya Sabha, is no longer on the panel as chief spokesperson.
Welcoming Modi's elevation, BJP leader Giriraj Singh said: "It is good news and will infuse more power and strength into the party."

Poonam Mahajan, daughter of late party leader Pramod Mahajan, has has been made a secretary.

The 12-member Central Parliamentary Board is headed by Rajnath Singh, and has as members Atal Bihari Vajpayee, L.K. Advani, Murli Manohar Joshi, M. Venkaiah Naidu, Nitin Gadkari, Sushma Swaraj, Arun Jaitley, Ananth Kumar, Thawar Chand Gehlot and Ram Lal, apart from Modi.

The central election committee includes all these leaders apart from Gopinath Munde, Jual Oran, Shahnawaz Hussain, Vinay Katiyar, J.P. Nadda and Harshwardhan. Mahila Morcha chief Saroj Pandey is the ex-officio member of this committee.

There was some speculation that Madhya Pradesh Chief Minister Shivraj Singh Chouhan may also be included in the party's parliamentary board.

Prakash Javadekar said: "Narendra Modi is one of the popular leaders of the country, and that is why he is in the parliamentary board."

He said both "new and experienced faces" have been included in the team and the party's aim was to win the 2014 elections and "relieve the country of bad governance by the Congress".

Javadekar defended Amit Shah's inclusion in the team.

"People don't come to the BJP from one family. They are inducted on merit. Unless a court verdict comes or the Supreme Court says something, we cannot prohibit him from occupying a position in the party," he said.

BJP vice president Mukhtar Abbas said the new team has been decided by Rajnath Singh after discussions with senior party leaders.

"I think it is a perfect and balanced team," Naqvi said.

Party leaders said that the decision on prime ministerial candidate would be taken at an appropriate time.

Rajnath Singh also announced national executive committee and a four-member central disciplinary committee.