Sasaram is the only parliamentary constituency in Bihar where the 21st century Congress can hope of making a hat-trick.

Its candidate, none else but Lok Sabha Speaker Meira Kumar, is facing challenge from BJP's Chhedi Paswan. The latter has the distinction of defeating her twice in 1989 and 1991––but then as V P Singh's Janata Dal candidate and not as a saffron party nominee.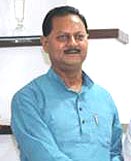 Chhedi, a Janata Dal (United) MLA was suspended from the party after he met the Gujarat chief minister, Narendra Modi, in Ahmedabad on Sep 29 last. So the BJP naturally offered him the ticket to contest against the daughter of former deputy prime minister, Jagjiwan Ram, who represented Sasaram right from the first election after independence till his death on July 6, 1986.
But Meira, who quit her IFS job to join politics started her career not from her father's constituency, but from Bijnor, Uttar Pradesh, in 1985. She defeated Ram Vilas Paswan and Mayawati, who later emerged to become a powerful leader of the community in her state.
Ironically, Meira lost the first two elections she contested from Sasaram to Chhedi Paswan in 1989 and 1991.
After the two defeats in Sasaram Meira shifted to Karol Bagh parliamentary constituency in Delhi from where she won in 1996 and 1998 but lost in 1999.
She managed to win from Sasaram for the first time in 2004 when she defeated three-time MP, Muni Lal of BJP, by a big margin. Muni Lal was also a former bureaucrat.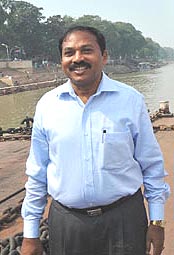 Apart from Chhedi Paswan, she, is also taking on K P Ramaiah of Janata Dal (United). Till a few days back he was an IAS offcer, who quit the job to jump into the fray. He actually enjoys full backing of his chief minister. But Ramaiah is an outsider––from Andhra Pradesh––yet he is reported to have made his mark in the state by doing some good works––especially for Dalits––as a bureaucrat in Bihar.
After winning the 2004 election Meira became Union minister for Social Justice and Empowerment. She repeated her performance in 2009 and was made the Union minister for Water Resources, but after three days was elected as the first woman Speaker of Lok Sabha.
Like all the candidates from this reserved seat, Meira is a Dalit. But so far the electoral politics is concerned she has an inherent advantage––her husband Manjul Kumar, a Supreme Court lawyer, is a Koeri. And in this constituency, where Koeri has a sizeable presence, Meira can certainly hope to get a good chunk of this caste's votes.
While Meira Kumar is a Ravidas, Chhedi Paswan is a Dussadh. Ramaiah, though of Andhra Pradesh, belongs to her caste.
In western Bihar Bahujan Samaj Party often gets a good number of votes, especially of Ravidas community. Last time its candidate got about one lakh votes in Sasaram.
The BSP had this time initially given ticket to Meira's niece, Medhavi Kirti. She had filed her nomination papers on behalf of the BSP. However, her papers were rejected as she failed to deposit the party symbol. It went to a local party leader, Baleshwar Ram, also a Ravidas.
Kirti accuses Meira of conspiring with the BSP leaders against her as Mayawati, according to her, had earlier promised to give the symbol. Had Medhavi contested it would have been an embarrassment for Meira as the family dispute would have come into open. Medhavi is the daughter of Meira Kumar's late brother Suresh Ram.
Though both Grand Trunk Road and Howrah-Delhi Grand Chord railway line passes through Sasaram the constituency failed to develop much. This is so in spite of the fact that for the first four decades it was represented by Jagjiwan Ram, the longest serving Union minister of the country.
Though many things go to the credit of Jagjiwan Ram yet critics are of the view that he could not pay much attention to his own parliamentary constituency. It was during his tenure as the defence minister that India defeated Pakistan and Bangladesh was created in 1971. As agriculture minister his contributions to the Green Revolution is still recalled. But ironically the Durgawati Reservior Project, which he inaugurated way back in 1976 is yet to be completed.
While Chhedi accuses Meira of doing absolutely nothing for this Project she, however, says that it is nearing completion and would become operational soon.
Initially the estimated cost of the project was Rs 25.3 crore, but Rs 700 crore has been spent on it so far.
Meira takes credit for building 1,000 km of roads in the last five years as well as introduction of Sasaram-Anand Vihar (Delhi) Gareeb Rath Express and direct trains to Patna.
Old timers recall that in 40 years––33 years as a Union minister––the only thing her father could do in the field of railways is to ensure the stoppage of Howrah-Delhi-Kalka Mail, the oldest long distance express train of the country, in Sasaram.
In that comparison his daughter has done much more in this field.
In the last couple of decades a number of factories have closed down in the constituency as well as in the Dalmianagar, which is situated in its vicinity, though still in Rohtas district. But during the tenure of Lalu Yadav as the railway minister Congress president Sonia Gandhi in February 2009 laid the foundation stone of a coupling plant at the same place where once Dalmianagar industries used to be. As it is too close to Sasaram the local people can hope to get some job––provided the plant start working soon.
The northern half of the constituency falls in the region called the food basket of Bihar. The entire Sone canal region of Shahabad and Aurangabad and Jehanabad are known for bumper crop.
However, the southern half is somewhat dry and hilly and provides a happy hunting ground for the Maoists. While Chhedi Paswan is relying heavily on the NaMo factor, Ramaiah is banking on what he claims the performance of chief minister Nitish Kumar. Meira, a soft-spoken former diplomat, can still recall on the contributions she and her father had made to the constituency.
But Sasaram-watchers feel that in spite of all this caste still matters.
Anyway Sasaram can still boast that it is the one Scheduled Caste reserved constituency not only of Bihar, but India, which has been represented for so long either by a top Dalit politician of the country or by a former bureaucrat or diplomat.
The medieval Afghan ruler of India Sher Shah Suri is buried here. But his contributions to India's development can still be seen. The Sadak-e-Azam, now the six-lane G T Road––or a part of Golden Quadrilateral––still leads everyone to the power centre in Delhi. Let us see who goes to Parliament this time.