"Achcha to hoga ki Jamui se jeet kar jaye aur yahan ka seat khali karde,"(It would be better that he wins from Jamui and leaves this seat), said a youth of Iamaganj (Gaya district) Assembly constituency, which Uday Narayan Chaudhary, the JD(U) candidate from Jamui Scheduled Caste reserved constituency, at present represents.
Incidentally, the youth who said this is not the supporter of Janata Dal (United), but he wishes him victory from Jamui Lok Sabha seat just because he wants to get rid of him.
There is no dearth of people in Imamganj who do not like him for, what they allege, his 'links' with the Maoists. In 2010 he could win by just over 400-odd votes and that too largely because of what his rivals say, the covert Maoists' support.

So when the intelligence agencies on March 21 last sent a report that the Janata Dal (United) candidate and Bihar Assembly Speaker, Uday Narayan Chaudhary, has paid money to the Maoists to seek support for election the opposition got an opportunity to criticize him.
Though Chaudhary denied the reports and dubbed it as a conspiracy, political observers are of the view that if there is even an iota of truth in the intelligence note then it exposes his weakness. Such supports are often taken when a candidate is not sure of his victory.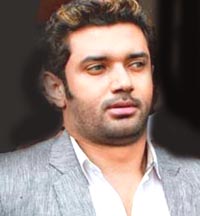 Anyway the battle for Jamui has become interesting with many media pundits saying that it would be a straight one between the Lok Janshakti Party's Chirag Paswan and Chaudhary. However, there are many analysts who do not rule out the possibility of RJD's Sudhanshu Shekhar Bhaskar proving a dark horse because of the support of Yadavs and Muslims. Besides, Bhaskar is a Ravidas, the Mahadalit caste, which is estimated to have about one lakh votes in the constituency. While Chirag is a Dussadh, Chaudhary is a Pasi.
The challenge for Chirag is that he will have to prove his mettle if he wants to be the GenNext leader of the Lok Janshakti Party. Both the LJP chief Ram Vilas Paswan and RJD president, Lalu Prasad, are leaving no stone unturned to ensure the victory of their son and daughter so that the future leadership of the respective parties remain within the family.
The allegation of Maoists' link is not enough for Chaudhary. He is facing other problems too.
Some Janata Dal (United) insiders feel that chief minister Nitish Kumar, like many people in Imamganj, also wants to get rid of him as the Speaker of the State Assembly. So after denying ticket to his own party MP, Bhudeo Chaudhary, he decided to put up Uday Narayan Chaudhary.
Bhudeo defeated RJD's Shyam Rajak in 2009. Interestingly, a month after the defeat Rajak in June 2009 joined the Janata Dal (United).
Secondly, Chaudhary is fighting two Narendras––Singh as well as Modi. Though NaMo factor is to some extent supporting, Chirag, the agriculture minister in the Nitish cabinet, Narendra Singh, gave enough hint that he is against the candidature of Bihar Assembly Speaker. So at an election meeting he said in the presence of both CM Nitish Kumar and Chaudhary that if he chose to go against JD(U) candidate, the latter would not only lose the election, but would also forfeit his security deposit. Narendra hails from Jamui district and Rajputs have a good presence here.
Though he later softened his stand the message was loud and clear.
While both Chirag and Chaudhary are outsiders, the RJD candidate can at least claim to be a local as he is the former MLA from Sultanganj (Bhagalpur district), which though not a part of Jamui constituency is situated in its vicinity.
Like Imamganj Assembly seat, Jamui Lok Sabha constituency is also on the border with Jharkhand. The hilly terrain and forests, especially in the east and south, provide them a happy hunting ground. The Maoists have not spared trains and railway stations too as the Howrah-Delhi Main Line passes through it. Sheikhpura Assembly segment has a history of Naxal movement. Naxalites were the earliest to settle in late 1960s after crackdown in neighbouring West Bengal. However, now they have shifted their operation further south and east.