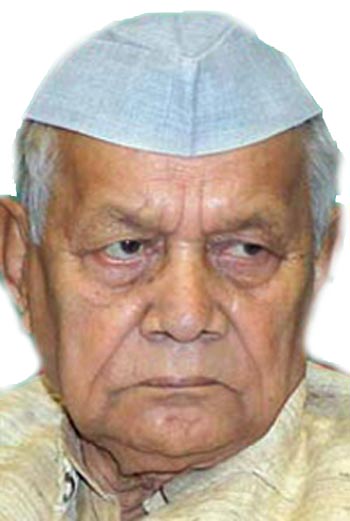 Patna, April 6 : Honest, age doesn't matter. Ram Sundar Das, the 93-year-old outgoing MP from Bihar's Hajipur Lok Sabha seat, is seeking re-election though he isn't able to move freely.

Winnability factor has forced political parties in caste- ridden Bihar to field dozens of elderly candidates and those who are in their 50s.

Das, the state's ruling Janata Dal-United candidate, is seeking re-election despite his old age and bad health. He is the oldest MP at present.

Das, who is unable to move freely for campaigning, is fighting against Lok Janshakti Party (LJP) chief Ram Vilas Paswan, who is in his late 60s.

"There was a demand to replace Das this time with a young face but top JD-U leaders have preferred to field him again in view of the tough battle," said a JD-U leader close to Das.

Das, a former chief minister, has an image of being an honest politician among people.

There are other elderly candidates, but none in Das' league.

JD-U president Sharad Yadav, in his late 60s is another senior citizen who is seeking re-election to the Madhepura seat. He is contesting against RJD candidate Pappu Yadav, a controversial former MP.

Another sitting JD-U MP Ranjan Prasad Yadav, in his early 70, is seeking re-election to the Patliputra seat.

The RJD has fielded Raghunath Jha, in his early 70s, from West Champaran. Former union minister and RJD candidate to the Araria seat is Mohammad Taslimuddin and he is in his late 70s.

RJD's two sitting MPs Jagdanand Singh, 70, and Raghuvansh Prasad Singh, 67, are seeking re-election from the Buxar and Vaishali constituencies.

Other senior citizens fielded by the RJD are Anwarul Haque, who is in his 70s, from Sheohar and Magni Lal Mandal, who is in his 60s, from Jhanjharpur .

Congress candidate and sitting MP from Sasaram Meira Kumar, 68, is Lok Sabha speaker. Another sitting Congress MP is Asrarul Haque, 70, is seeking re-election from Kishanganj.

There are more.

The BJP has fielded its sitting MPs Hukum deo Narain Yadav, and Bhola Singh, both in their mid-70s from Madhubani and Begusarai. Another BJP sitting MP is Nikhil Kumar Choudhary, in his early 70s, is seeking re-election to the Katihar seat.

Dozens of candidates of the Congress, RJD, BJP, JD-U, in their 50s are in fray.

According to an official figure of the state election commission, of the total 156 candidates in the fray for 40 Lok Sabha seats in Bihar, there are barely 18 candidates aged 40 or less.

The BJP and the JD-U have not fielded any candidate below the age of 40 years.

The youngest candidate in the fray in Bihar is CPI-ML candidate Rinki Kumari, 26, from Bhagalpur followed by Rahul Ranjan, 27, of Jharkhand Mukti Morcha, who is contesting the Jehanabad seat.

RJD candidate from Munger is Pragati Mehta, 33, a journalist turned politician.

LJP candidate for Jamui is Chirag Paswan, 32, Congress candidate for the Supaul seat is 37-year-old Ranjeet Ranjan and the RJD candidate from Patliputra seat, Misa Bharti, 38.

There are 62.1 million voters in the state. Of them about 50 percent are young voters. But they have to vote for senior citizens and have very limited choice to elect youths in the Lok Sabha polls.
(IANS)