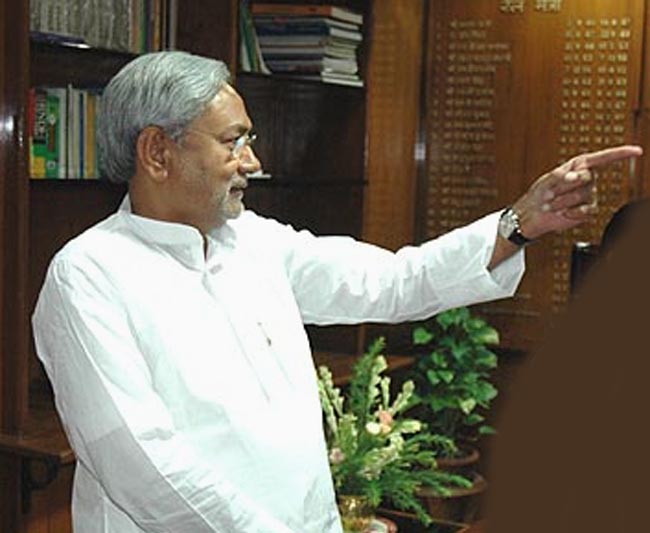 Patna,(BiharTimes): Coming down heavily on BJP's manifesto Bihar chief minister Nitish Kumar on Tuesday said that by raising the issue of development the saffron party is actually trying to hide its hidden agenda.
Criticising the BJP for including contentious issues like construction of Ram Temple in Ayodhya, abrogation of Article 370, enactment of Uniform Civil Code, cow slaughter etc in its election manifesto the chief minister blasted the BJP for not saying a word on the special category status to Bihar and keeping silent on the issues like corruption, price rise, women empowerment, tribal development etc.
He said that the BJP talks about the Gujarat model, when the fact is that the drop-out rate among schedule tribes in Gujarat is 78 per cent. Will this be the model? In the past 81 per cent tribals were dependent on agriculture in Gujarat, now it has increased to 85 per cent, he added.
Talking to the media he said the manifesto would only increase communalism and crony capitalism and nothing else.
He said that while the manifesto talks about the floods in Assam it makes no mention whatsoever about the same problem in Bihar though two-thirds of the state area are flood-prone.
He said that BJP's manifesto vindicated his decision to snap ties with it as the saffron party has included all its agenda in the manifesto, which were kept out during the NDA rule.
He said there was no clarity about steps to check price rise and the manifesto is silent over the vital question of whether it is in favour of purchasing natural gas. What will the BJP do on the rise in petroleum prices?
The party is silent over ESMA, blackmarketing, hoarding etc though they are essential for checking price rise. How can corruption be fought without mentioning anything about the Lok Pal or Lok Ayukt?
He said that the manifesto is silent on on the Centre-state relationship and the BJP has joined hands with those who humiliate and insult Biharis in Maharashtra.
He also criticized the manifestos of RJD and Congress. Nitish said while RJD's manifesto talks about special status for Bihar the truth is that it is nothing but a joke. Lalu Prasad has been with the UPA for so many years. Why not he got the special status for Bihar. In 2004 he was in the Union cabinet and his party was in power in Bihar, yet he did nothing for the special category status.
Incidentally, the Janata Dal (United) general secretary K C Tyagi and journalist-turned-Rajya Sabha MP Harivansh, were present at the Press conference.