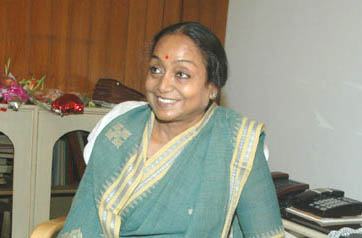 Sasaram (Bihar), April 8 (IANS) Lok Sabha Speaker Meira Kumar is hoping to score a hat-trick in Bihar's Sasaram parliamentary constituency, but it may not be a cakewalk for her.

Unlike in the last Lok Sabha polls in 2009, it appears to be a triangular fight among three Dalits - Congress candidate and Lok Sabha Speaker Meira Kumar, Chedi Paswan of the BJP and former bureaucrat K.P. Ramaiah of the ruling JD-U in this reserved constituency.

Meira is the sitting MP from Sasaram.

The soft-spoken Meira Kumar is well-educated and carries the legacy of her father - late Congress leader Babu Jagjivan Ram, a veteran Dalit leader, who represented Sasaram right from the first election after independence till his death July 6, 1986.

A former Indian Foreign Service (IFS) officer, Meira is confident of making it a hat-trick this time.

"Thanks to Meira..., Sasaram is seen as a sure seat of the Congress," said a party leader close to her.

In a bid to convince those questioning her achievements, she has distributed booklets with facts and figures to counter her rivals.

She is also banking on the votes of her husband's castemen, Koeris, who have a sizable presence in the constituency.

In 2004, Meira won the Sasaram seat for the first time when she defeated three-time MP Muni Lal of the BJP by a big margin. Muni Lal, a former bureaucrat, was again defeated in 2009.

Sasaram is a semi-urban and rural constituency falling in Rohtas and Kaimur districts with 1,586,484 voters.
It is a Maoist-affected constituency with half of it known as the food basket of Bihar and other half drought-prone and hilly.

Sasaram is known for the 16th century tomb of emperor Sher Shah Suri, who built the Grand Trunk Road.

"All political parties and their candidates are trying to impress us. If someone is taking credit for development, others are making big promises. But we know whom to support and vote; after all it is caste that matters here more than anything else," said Someshwar Kumar, who lives just half a kilometre from the historic tomb of Sher Shah.

BJP candidate Paswan is hopeful of a favourable poll outcome thanks to a Modi wave which he claims is sweeping the country.

"He will defeat Meira again as he has the distinction of defeating her twice in 1989 and 1991 thanks to caste arithmetic...," said Munna Kumar, a supporter of Paswan.

Paswan is eyeing overwhelming support of his castemen - locally known as Dusadh - and enthusiastic upper caste voters and others who are under the influence of larger than life image of Modi.

Besides, Paswan said that as Modi is contesting for the nearby Varanasi seat, it is bound to help him.

Ruling JD-U candidate is Ramaiah, a native of Nellore district of Andhra Pradesh, who took voluntary retirement from the Indian Administrative Service (IAS) last February. He is eyeing the strong presence of Mahadalits, poorest among Dalits, to decide his fate.

Ramaiah, who helped Bihar Chief Minister Nitish Kumar to implement several development and empowerment schemes for Mahadalits, group of 21 of 22 castes among Dalits in the state, is confident of getting their support.

"JD-U caste equation is different as it is sure to get major chunk of votes of Mahadalits, extreme backward castes, backward caste...," a JD-U leader said.