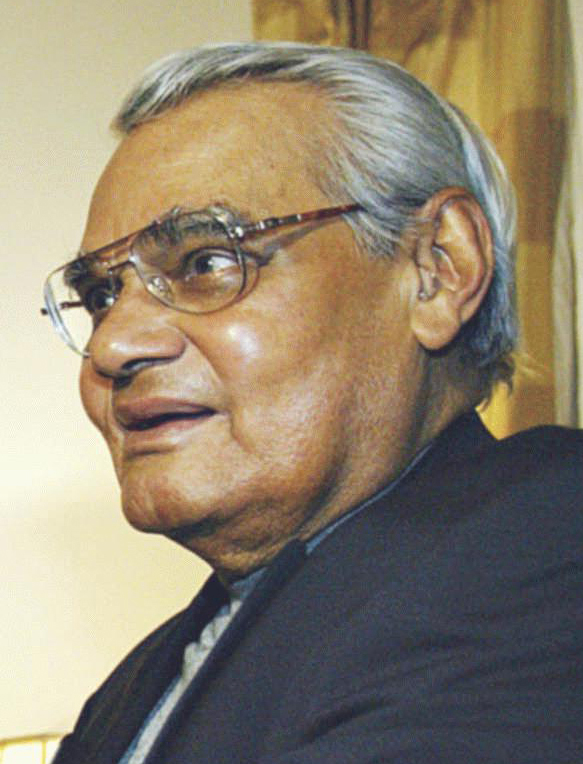 new delhi, dec 24 (ians) in the six decades he was in electoral politics, atal bihari vajpayee, awarded the bharat ratna wednesday, catapulted from one who lost one election after another to a colossus who eventually became india's only non-congress prime minister to last a full five years in office.

in the short but tumultuous period he presided over the destiny of the world's largest democracy, vajpayee - the consummate diplomat he was - stunned the world by making india a declared nuclear state and then almost went to war with pakistan before making peace in the most dramatic fashion.

in the process, vajpayee's popularity came to match that of indira gandhi - a woman he admired for her guts even as he hated her politics. he also became the country's known national leader after indira gandhi and her father jawaharlal nehru.

that was a remarkable achievement since his bharatiya janata party (bjp), including its earlier incarnation jan sangh, didn't achieve for decades the popularity of the congres. even later, the bjp had to be apologetic over its hindutva agenda vis-à-vis even some allies. no wonder, the bachelor politician was often referred to as the "right man in the wrong party".

success didn't come easily for vajpayee, who was born on christmas day in 1924 in gwalior into a family of moderate means. his father was a teacher. vajpayee would later recall his early brush with poverty.

vajpayee did his masters in political science, studying at the victoria college in gwalior in madhya pradesh and at the dav college in kanpur in uttar pradesh, where he first contested - and lost - elections. by then he had embraced the rashtriya swayamsewak sangh (rss).

but even as he struggled to win electoral battles, his command over hindi, his ability to agree-to-disagree, and his envious oratory brought him into limelight in a manner that it could never fade away.

his first entry into parliament was in 1962 through the rajya sabha. it was only in 1971 that he won a lok sabha battle. he was elected to the lok sabha seven times in all - and to the rajya sabha twice.

vajpayee spent months in prison when indira gandhi imposed emergency rule in june 1975. when the janata party took office in 1977, dethroning the congress for the first time, he became the foreign minister.

the lowest point in his career came when he lost the 1984 lok sabha polls, that too from his birthplace gwalior. and the bjp he led ended up with just two seats in the 545-member lok sabha. in no time, vajpayee was eclipsed by his long time friend l.k. advani.

although they were the best of friends publicly, vajpayee never fully agreed with advani's advocacy of hindutva. when hindu mobs razed the babri mosque in 1992, his was a lone voice in the hindu nationalist pantheon who didn't sound happy. when hindu hardliners celebrated, vajpayee was full of personal remorse and called it the "worst miscalculation".

it was precisely this persona of vajpayee - one merged in hindutva yet seemingly not wholly willing to bow to it - that won him admirers cutting across the political spectrum. this trait made him the prime minister when bjp's allies concluded they needed a moderate to steer a hardliner party widely seen as pro-hindu.

vajpayee proved to be as astute politician, at times seen as a statesman. he combined the compulsions of politics astutely with his bjp's rightwing ideology but would seldom budge from the usp of his high ethical pedestal.

his first stint as prime minister in 1996 lasted 13 days, from may 16 to 28. the second one ran for 13 months, from march 19, 1998. but he learnt his lessons from failures to preside over a national democratic alliance (nda) that took office oct 13, 1999, and completed a five-year term. his was the first multi-party coalition in india to do so.

his government tested a nuclear device in may 1998, a quarter century after the first such explosion when indira gandhi was prime minister. in doing this, and despite global censure, he thrust india into the nuclear club - until then restricted to a privileged few. it was an action that finally resulted in the path-breaking india-us nuclear deal of 2008.

in 1998, vajpayee launched a widely acclaimed diplomatic initiative by starting a bus service between new delhi and lahore in pakistan. its inaugural run in february 1999 took vajpayee. it was suspended after the 2001 terror attack on indian parliament that nearly led to war between india and pakistan.

the freeze between the two countries, including an eyeball-to-eyeball confrontation on the border for nearly a year, was finally cracked in the spring of 2003 when vajpayee, while in kashmir, extended a " hand of friendship" to pakistan.

that led to a historic summit in january 2004 with then president pervez musharraf in islamabad, a remarkable u-turn after the failed summit in agra of 2001.

vajapyee was not known as "atalji", a name that translates into firmness, for nothing. he could go against the grain of his party if he saw it deviate from its path. there were times when vajpayee would withdraw into a shell, due to disagreements with the party colleagues, forcing them to mollify their icon.

his critics insisted that vajpayee was only an expedient mask for the hindutva idology his party espoused. as prime minister he rebuked his bjp chief minister narendra modi in gujarat, where hundreds died in a communal conflagration in 2002, but defended him at a party meet only days later.

vajpayee wrote several books and hindi poetry. he was a master of pauses, an expert at evading replies, often shrugging off tough posers with a huge laugh, a cold stare or a long pause.

when he stepped down in may 2004 after an election that he was given to believe he would win, it marked the end of a long and eventful political career. almost since then, vajpayee has suffered from frail health.

comments powered by
get money for reviewing products